Honda GB 500 TT
Well, having finished the GB400TT, I took it round to Nicks for them to have a look at and they were just unloading another container full of unwanted Japanese junk. There, straight out of it's box, in the middle of the showroom stood a forlorn looking burgundy GB500 TT. 'Go and have a look round that little beauty' was something like the now customary come on. I did have a look round it and bought it there and then. 9000km showing, original toolkit, not a spot of corrosion anywhere and a very genuine 20 year old bike.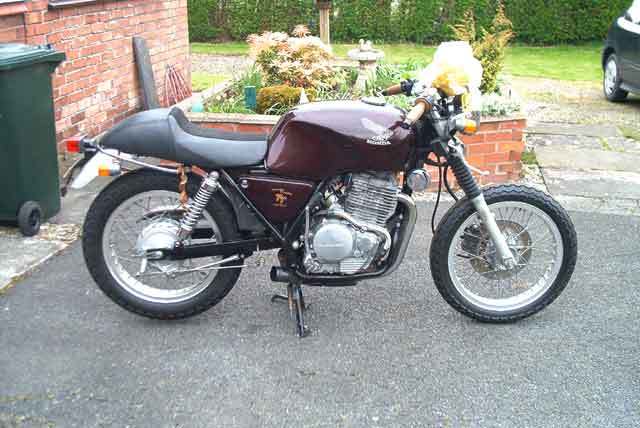 As delivered, still with wrapping on and parts missing from the packing process
There were already a few people lined up to buy my GB400, which I had no intention of selling, prior to seeing this one. There was a small scuff on the silencer, and the tank and side panels would have to be re-painted, which I enjoy doing anyway. It was delivered later that morning by West Coast Motorcycles, and by mid afternoon was assembled, washed, polished and running, on the battery and fuel which came with it. This was very unusual, as it is normal to have to clean out the tank, strip the carb and put a new battery on. Perhaps this one had been recently prepared for sale in Japan but sold to Nick in England before it had any takers. I spent some time during the week checking things over and replacing the brake fluid and lubricating the controls and pivots. I took it up for MOT the following Friday and it passed first time
Straight from the MOT station
As all of the documentation was still 'fresh', it also seemed a good idea to get it registered with DVLA, and less than 2 weeks in total after seeing it for the first time, it was issued with a 1985 'C plate'. My Lands End to John O'Groats tricycle ride intervened then, and it was some time before I could get round to painting the tank, panels and mudguards, but I did have a few rides out on it with the tank and panels from the 400. It is certainly a lot quicker than the 400, but not quite so smooth - I have always had a bit of a theory about no machine having an individual cylinder capacity of more than 400cc if you want smoothness. It's not a problem, but big is not always better. I hope not to offend any Harley riders reading this!
These are a few shots after painting the tank, side panels and mudguards
The brakes are well up to the job and the chassis feels very taut for a 20 year old design, being a delight to ride on the twisty bits. I've done about 300 miles on it so far and might just get it to a show this season.
Feedback from a Canadian GB500 owner