1993 MGR V8 3.9
I've occasionally seen these cars at shows and thought they looked somehow nicer than the standard MGB but had never really considered them before. Sometimes these things just happen without any pre planning, as was the eventual purchase of this car. It all started quite innocently and quickly took on a life of its own.

I had been to view some unwanted equipment for possible donation to our Orkney Menís Shed and on returning with the donor to his place of work the car park was full, so he left his van down a nearby alleyway. As we left the van I spied the corner of a green sports car and dismissed it as an MGF - no offence to owners of these vehicles but they donít come near the top of my list for possible ownership. A second glance and a firm rebuke from my friend made me take a closer look - this was a forlorn looking MGR V8, complete with MGR number. Dumped amongst unwanted pallets and other dross, two tyres were flat, there was green slimy mould on most of the roof and water in the floors and the wheels looked as though they might have been immersed in salt - how can anyone leave a car to get like that? Following a brief discussion with the owner the following day, it was ours! Oh, and before you ask - yes it was cheap!
Only 2000 of these cars were built and around 1500 of those were sold to Japan although some of those have now been re-imported. Most of the Japanese cars were painted in Woodcote green but only 311 of the total production were in British Racing Green like ours.


Christine and I decided it might be worthwhile to bring it back from the dead and use it next season for a show or two - something we have done many times before with cars and motorcycles. Unless we are really stupid with the buying of parts, we can't possibly get our fingers burned.
It was delivered the following Wednesday and after finding the oil quite clean and most things still worked, was running and driving by the Friday. It has like many cars, rather a convoluted story and appears that after 3 owners in the first 6 years, was brought to Orkney and left virtually unused, first in a showroom then much less well cared for, for some years until we bought it. If it had lain unloved for another winter it could have ended up being worth nothing more than expensive scrap.

The original tool roll was still there (including torch!) but the spare and jack have wandered off. Even the wheel chocks are unused.

The interior was very dirty but eminently salvageable and only the door cappings have deteriorated badly.

A few weeks of drying out, deep cleaning, claying and waxing have brought the paintwork to a pleasing standard and wheels are well on the way to being acceptable. These cars were probably painted properly by a dedicated man in overalls rather than by a robot controlled by an accountant.

A full brake overhaul will obviously be done together with all bodily fluids being changed and the usual expendable ignition bits replaced. Needless to say a set of new tyres will be needed but not until the Spring when it will once more take to the roads.
Our first sight of this once cherished car
We could see through the layer of grime that this would make a very acceptable car
The good thing about anything made from an aluminium alloy is that the oxidation actually protects the bulk of the metal underneath, providing that it's left undisturbed as it becomes an impervious layer - unlike the oxide on ferrous metals which is porous.
1993 MGR V8 3.9 - incorrect entry on the DVLA register - states engine size is 3500cc - non were made in that size, all were 3.9 litre
Colour British racing green HNA
Trim colour Dark stone beige SMJ
Date of registration 3rd August 1993
Used until March 1999
Previous registered keepers:
Supplying Dealer
Clive Sutton (still trading)
151b Park Road
London
NW8 7HT
Second keeper:
In Windsor
Acquired vehicle on 30/11/1994
Third Keeper:
Near Northampton
Acquired vehicle on 17/01/1996
Appears to have been sold on 30/10/1998, perhaps to a dealer with a stated mileage at that time of 49100

First seen Thursday 5th October 2017
Returned the following day to view and agreed to buy as seen
Some pictures taken, visited again Sunday 8th with Christine plus Leslie Alexander and took pictures of engine bay and VIN plate.
Had Mot Jan 31 1998 Mileage 47917
Expired Jan 30 1999
Taxed until end February 1999
Probably came to Orkney immediately after
Failed MOT July 2014 Cert available (MOT History) 49888
Delivered home at 7pm on Wednesday 11th October 2017
The first wash and one wheel cleaned - they will all be done properly when the tyres and valves are removed for the tyre fitting

Missing:
Spare wheel
Jack
Wheel nut spanner
Centre cap key
Locking wheel nut key
Fake Studs on 3 wheels
Key fob
Spare key
Parts to buy:
Plug leads set
Distributor cap
Plugs
Front disc pads
Handbrake cables??
Centre exhaust rubber hanger
Boot support struts
4 wheel nuts to replace locking ones

External wash
Mould removed from hood
Interior dried out and carpets overlaid with thick pile of newspapers
Charged battery (date stamped 2015 - came up to full capacity overnight
Second wash/wax
Clayed OSR wing and polished with Meguiars
Lubricated door handles, all locks, boot and bonnet catches, door strikers.
11.30 Friday 13th Oct 2017
3/4 full fuel!
Attempted to start engine, fired immediately but ran after third attempt.
Noisy fuel pump
Engine slightly off note at first then fully on 8 cylinders
Ran up to temp, Clutch free
Drove back and forwards then around drive
Christine ditto with big smile

Made tool to remove wheel centre caps - special security Allen key missing
Removed the locking wheel nut from NSR wheel
Cleaned wheel in garage with loyblox
Re fitted wheel
Clayed nsf wing and waxed
Silencer hanger rubber split - requires replacement

Saturday 14th October
In garage
Clayed rear section, touched up damage on rear bumper
Removed 2 more locking wheel nuts osf, osr
Removed OSR brake drum and cleaned drum surface - almost no wear evident

Sunday 15th
In garage, removed OSF wheel and polished
Removed packed mud from wheel arch, wired brushed and sprayed with Tectyl
Clayed and polished half bonnet and driver's door
Monday 16th
Wednesday 18th clayed rest of bonnet
MG Car club joined.
Washed MG tool kit roll and left to dry.
Saturday 21st 2 key fobs delivered

Resumed Sunday 22nd

Car inside garage again
Bonnet catch removed cable freed
Front left indicator removed cleaned and refitted working
Monday 23rd
Drivers door armrest removed,
Drivers seat removed 1 bolt (inboard rear through floor) sheared but easy access to drill and tap (M8x1.25) later
Drivers seat belt removed complete with all bolts and spacers
Tuesday 24th
Chris cleaned interior and drivers seat with Decosol
More G4 compounding 1/4 of boot lid plus top osf wing
This is the drivers seat lower frame - rusty from sitting above wet carpets but after paint stripping and the application of Jenolite and painting with primer followed by Rover Champagne colour looks like this:
The seat adjustment frame was treated similarly but with satin black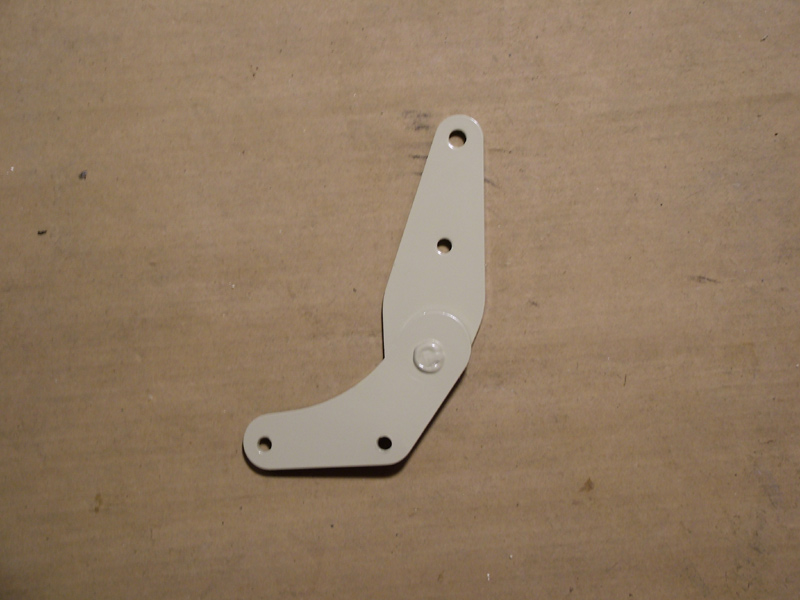 One of the seat hinges stripped, primed and repainted - incidentally there has been absolutely no evidence of any primer under any of the seat frame paint, so it's no wonder they rusted in a damp environment. The other hinge on the same seat is bare metal and contains the recline mechanism with lever and clock spring.
The drivers door capping was poor, with the lacquer split and a few cracks in the veneer, the lacquer lifted off quite easily with gentle heat and a backed razor blade and appears to be polyester resin judging by the thickness and the smell when rubbed down. I've ordered some Rustins 2 part clear coating which can be built up in layers and burnished to a gloss finish - we'll see what that looks like. We're not aiming for concours but it should be quite acceptable and suitable for a few shows.

Wednesday 25th
3rd wheel removed and polished, refitted
Just the lacquered fourth one to do now

Bonnet catch dismantled new rivet to make, re-zinc plated both pieces and spring

Hood pivots lubricated, rear screen unzipped, hood lowered
Driver side visor removed for clean and paint support bar
Friday 27th
remade bonnet catch rivet and refitted catch assembly
Saturday 28th
removed alternator shroud and bolts
cleaned bolts and shroud, re-plated with zinc and reassembled
Monday 30th
cleaned and lubricated under bonnet components - more to do under there as the mood takes me - it's a fiddly job
Sunday 12th Nov repainted drivers side visor bracket gloss black
Monday 13th Nov
stripped lacquer from drivers door capping, re-glued lifting veneer
Saturday 18th Nov
Drivers seat Backrest, headrest, gear lever knob and centre armrest re-finished in correct leather dye (dark stone beige) from Furniture Clinic and sealed with satin finish.
Sunday 19th Nov
Drivers seat cushion re-finished in dark stone beige sealed with super seal and satin top coat
The drivers seat frame has come up well with cleaned springs and the frame painted. The stretcher wires were poor so I remade those with twin twisted stainless locking wire. Just ready for the re-connolised cushion to be fitted and clipped into position.