A Peedie Orkney Chair
           I attended a woodwork evening class in Stromness a while back and made a peedie (small) Orkney Chair and in the process found a local supplier of American light oak and have made a few other things from this very pleasant looking wood.  The chair still needs the straw work doing – but that's another evening class!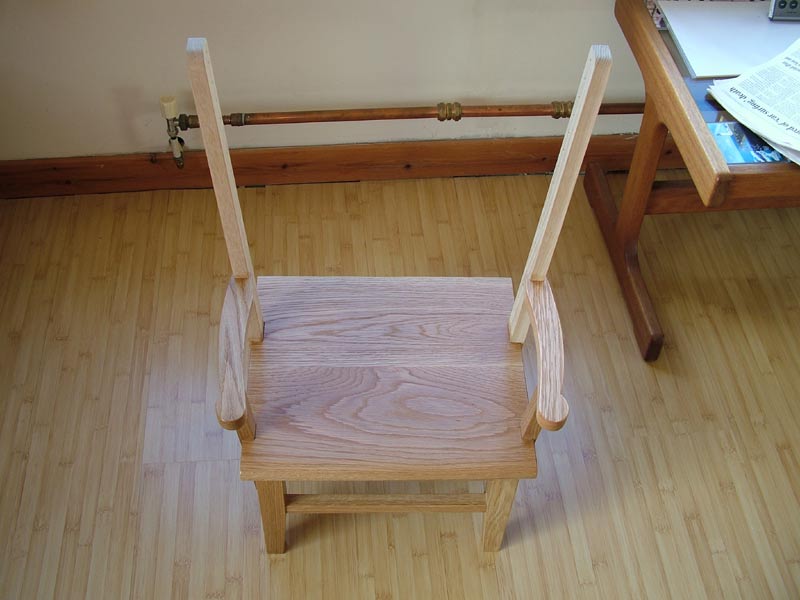 Unfortunately I don't have any detailed pictures of the construction of the oak frame for the chair but it was mostly glued and dowelled together, apart from the 'rubbed joint' where the 2 sections of the seat base came together. The finished frame was then treated to many applications of Danish Oil. I must mention that this course was heavily subsidised by the Scapa Flow Landscape Partnership - an organisation dedicated to keeping some of the traditions of Orkney alive. (http://www.orkneycommunities.co.uk/scapaflow)
I followed this course with one on straw work, which was based at the Kirkwall Grammar School and ably run by John Graham. I started out practising the necessary skills to make a simple shallow tray from straw - this process was also very informative and absorbing and led into the project in hand. I managed to get 3 sheaves of Westray straw from John to complete the back of my own chair, in a lovely golden colour which goes well with the Oiled Oak.
This is the method of producing the straw back - the rough straw must first be stripped of its outside covering and bundled - a therapeutic process which some find unpleasant - quite messy though, with bits of straw everywhere on the lounge carpet.
The straw is bundled to about 20mm diameter and a ferrule slipped over the loose ends to keep all in place, followed by binding in place with string with an even pitch. When the bundle starts to thin out, more straw is added, thick end first and progress slowly made towards the top. The very top edge is bound with the same string but with the coils right next to each other Joining the string and turning corners are quite a challenge at first, but as with all hand skills you improve to an acceptable standard at just about the time you are finished - so yes, I might make a full sized one someday!
I'll add a bit more as I progress!