Orkney Cavalcade (with food)
20th May 2012
It looked promising as I glanced out of the lounge window for the first run of the season in the XJ-S, quite settled and at least dry. I had recently replaced the clutch in the Jaguar, so I was interested to see if all was well on a longer run than the post replacement test drive. We met up at Glaitness School car park, thankfully dry and bright, if a little chilly. Angus and Gladys' lovely Model T Ford was already there along with a good variety of other makes and models. Cars (and a lone BMW motorcycle) arrived in a seemingly never ending stream right up until it was time for us to leave.
Model T belonging to Angus and Gladys Harcus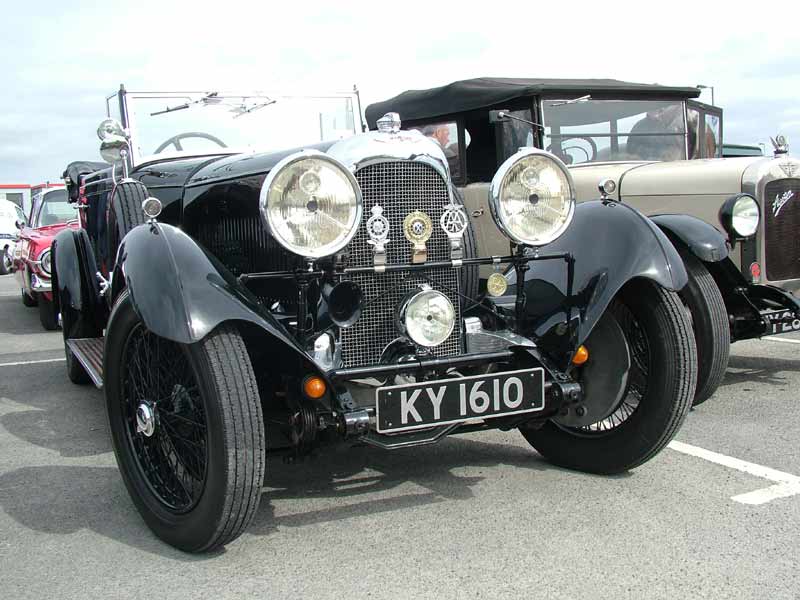 The fabulous Lagonda owned by Bill Spence
We then moved off and into town but on the way past Highland Park Distillery we slowed to go around Angus' Model T as he searched in vain for Gladys' hat which had blown off - heck, I knew their whisky was powerful! Fortunately the airborne headpiece had ended up in the back of their car, so all was well. We then motored out through Holm on our way over the Barriers to gather at Willie Mowat's Smiddy in South Ronaldsay where we were joined by Kim and Steph on their sweet sounding Norton Commando ('Wot, no Morgan?')
Outside Willies Smiddy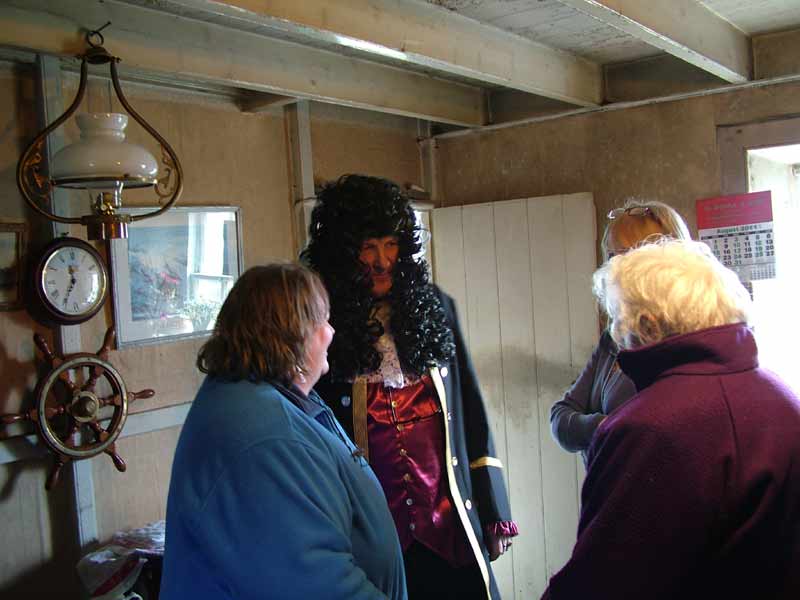 Even King Charles turned up!
It was the first visit that Christine and I had made to this Aladdin's Cave and we just couldn't believe that we had missed it for so long. This was to be a special celebration of 150 years of the Smiddy and it's still operated by Willie Mowat MBE, now in his 90's - although he now has an apprentice to pass some of these valuable skills to.
Willie Mowat and the cake
Willie showed us all that he still has the eye for hammering hot metal, leaving his 'Apprentice' to pump the bellows; and a few well chosen words were delivered by Albert Spence on this auspicious occasion. Willie and the family really did us proud with sandwiches, drinks and a special 150th Birthday cake to commemorate this splendid event. All too soon we had to say our good-byes for it was now off to the Sands in Burray for a pre arranged Lunch where another fabulous spread awaited us. We were now well and truly full and it was time to be on our way again - this was after all a Cavalcade, rather than an eating competition as I was told by one of the entrants!
The Apprentice - you're fired!!
We had a gentle ride back over the Barriers to assemble on the Pier in Kirkwall for a short stop over - but where was Sue Spence's Austin Nippy? Apparently it had suffered a mechanical malady, which on first diagnosis seemed to be quite serious with no drive. Fortunately it turned out to be nothing more than a sheared woodruff key in a half shaft.
We were soon off again towards Finstown for the next leg and following a lovely Wolseley 4/44 we were treated to an aerobatic display from a wayward hub cap during its bid for freedom. It soared quite high on the breeze but thankfully landed over in the grass to our left. I stopped as soon as it was (not very) safe to do and dispatched Christine to retrieve it from its hurriedly described landing spot. No one even noticed we needed to catch up with the crowd and not knowing which way they had all gone I made a brave decision to carry straight on in Finstown at the Evie road end. As we reached the Harray road end I spotted Andrew Newlands recovery truck and stopped to ask if they had spotted which way the masses had gone. One observant lady bystander (the owner of the stranded vehicle methinks) indicated the main road toward Stenness. Off again, we finally caught up with some of the others about to turn up the Brodgar road.
One point worth mentioning on these road runs - if you always look after the vehicle BEHIND you, especially at junctions, then the chain will never be broken. If you just drive like a demon to catch up with the one in front after hold ups etc, then apart from your licence, you also risk breaking the run for those behind you, who may not know the route.
We made our way past the Ring of Brodgar and then on to Skaill Bay before the lovely drive through Quoyloo, Marwick and into Birsay Village for an ice-cream (not an eating competition eh?) The next place for a rest was but a few miles along the Wattle road at the Kirbuster Farm Museum (which coincidentally also sells ice-cream!) We mingled with the public for a good while and I chatted for some time with a visitor (a fellow Yorkshireman!) in his brand new Jaguar XF. Once again leaving time came up quickly and we were off again in an impressive convoy on our way to the Merkister for our evening meal (I rest my case!) The meal, as always was fabulous, but Willie Shearer had to keep referring to his all important list, as many people had by this time forgotten what they had ordered at the beginning of the run - was it poor memory or an envy of what someone else had just had put before them? We will never know!
All in all, a fantastic day out in stunning surroundings with a wonderful mix of vehicles all made possible by the hard working organising team - many thanks from us all.