The Green Monster
This piece was sent to me as interesting feedback from a gentleman in Germany by the name of Jürgen Osmer, so I have included it in its entirity with photos. It's a small world - this guy from Germany has a car built by my good friend and Proteus founder Jim Marland - sometimes I love the Internet!
My Green Monster

This beautiful car was bought by me in October 2003 in SW England. Mr. Mallinson from the UK bought this car as a kit from the former Proteus in 1988. The donor car was MK 10 from from 1968
In the mid of 1996 he sold the car to a car dealer named Nightingale Ltd, from whom Mr. Farthing bought the car.
Mr. Jim Marland took the car 1996 into his workshop and refurbished a lot of things. It's proven by a small aluminium plate mounted on the firewall. In 2001 Mr. S. Dismorr bought it. The car was running fine but suffered from overheating.
Update 1st January 2005

The car is now fitted with XJ6 2-circuit brake equipment and 3.8 engine triple SU HD8 Carbs. I'm just working on a new wiring loom, this comes with the friendly help of Mr. Marland, new original instruments made by Vintage Restorations. In the meantime I have refurbished the radiator, changed the lights, fitted an alternator and I'm now just waiting for a new carpet, of course again in red. Next thing for next year is to change front and rear GRP parts for aluminium. The time has passed by and a lot of things happened with the "Green Monster"
First of all she got a complete new wiring loom with the friendly help of Jim Marland. In the meantime the authentic rev, speedo and ammeter produced by "Vintage Restorations" are now properly fitted….and they look great!! I did a little change in the left hand dashboard; It´s now made of nice aluminium and completed with a HALDA Speedmaster. In May she passed MOT without any problems. A slight problem occurred on the ferry to Harwich when a not properly fixed Saab rolled back and stuck its hook in Green Monsters grill. Sometimes sh.. happens. Nevertheless the car runs fine and I planned a trip to Italy with some friends. Wonderful experience to drive that beautiful car in the Alps. The engine seems to be perfect. On 800 mls only ½ ltr. of oil!!! For four days we had excellent weather only sunshine.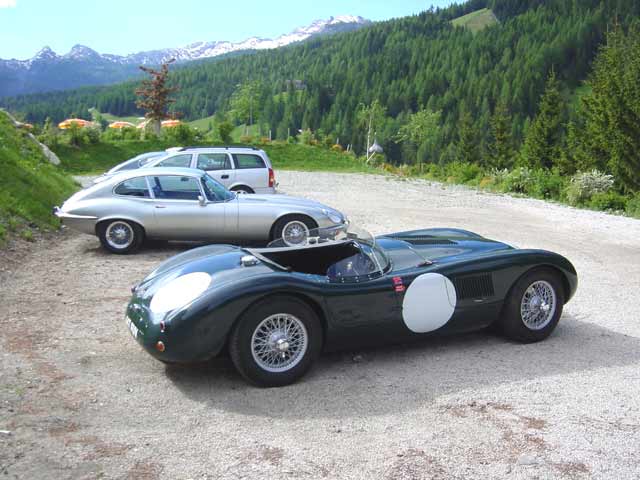 But…. On my way back through Bavaria it was raining cats and dogs. The outer sills were full of water, because there where no holes to get the water out. Unbelievable how water tight they are. That was the first thing I changed. I drilled two small holes. The passenger compartment only gave a problem when the car had to wait in front of a traffic light. But for this occasion I always had my huge golf umbrella!! Things to do: This winter I will send the Grill to Jim for repair.
Look at the pics, they give some impressions. News about Green Monster and me will follow from time to time.

<![if !supportLineBreakNewLine]>
<![endif]>
Back to Main Page


<![if !supportLineBreakNewLine]>
<![endif]>