Stallard Continental
Some time ago I discovered that there had once been a very famous person with the same surname as ours. He was Percy Thornley Stallard, who was born in Wolverhampton, probably in the 1920's. It appeared that this chap was a very keen cyclist and followed in his fathers footsteps, by running a cycle shop. Eventually he employed a man who built frames to his specifications and a variety of complete machines.
Needless to say, being interested in bikes since I was young, I started to trawl the internet and cycle magazines to see if there were any for sale carrying my surname. Last year there was a frame advertised in the CTC magazine 'Cycle', but had already been sold when I rang. As time passed I found out lots more about this interesting chap and his bikes and races, and placed an advert in the same journal for a Stallard frame. A reply came quite quickly, not from an owner but from someone who new an old chap who used to have a complete bike on a trainer a while back, and he kindly suggested going to see if it was still available. He himself had wanted to buy it some time back but the chap was still hanging on to it, having bought it new in the 40's. Hid did contact the owner who decided it could go, but now only as a frame and a few parts. I was quite surprised that I was eventually going to get a Stallard frame at last - I could have forgiven the chap if he had wanted to buy it himself, but he did the deal on my behalf.
The frame and some period parts duly arrived as agreed and I am absolutely delighted with it. I know that the purists would insist that I just collect the rest of the bits and make a good useable bike from it. Regardless of devaluing it, I intend refinishing the frame as original and then building a nice useable bike, after all, it is a Stallard. Some transfers seem to be available, but nothing will be touched until they can be obtained.
My first investigations indicate that the frame was made in late 1946 - so it's even older than I am!
This decal is available - in 3 different colours
This is the one I'm having difficulty with at the moment, artwork is in existence, but it would cost a fortune to have just 2 decals made from it. Perhaps this might be a case of very careful detail masking and leaving them 'as is'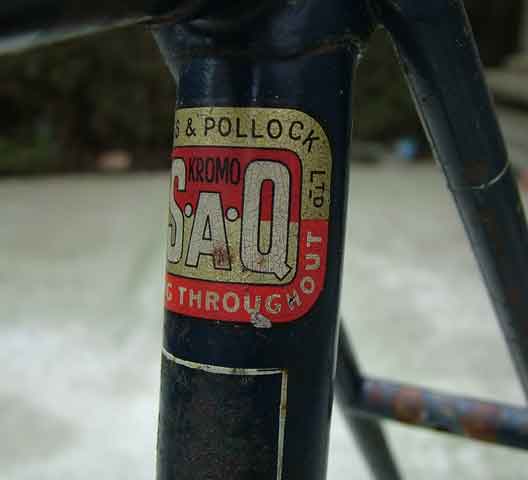 This AP transfer is available, but I still might mask around it.
More to follow as usual!