<![if !supportEmptyParas]> Wavin<![endif]>g at Strangers
<![if !supportEmptyParas]> <![endif]>
Peter Gawthorne's wonderful account of his End to End ride in 2003
<![if !supportEmptyParas]> <![endif]>
<![if !supportEmptyParas]> <![endif]>
Day -1 Prologue - Home to Wigan Station
<![if !supportEmptyParas]> <![endif]>
Day 1 Penzance to Land's End to Tintagel (Cornwall) 88 miles
<![if !supportEmptyParas]> <![endif]>
Day 2 Tintagel to Okehampton (Devon) 46
<![if !supportEmptyParas]> <![endif]>
Day 3 Okehampton to Street (Somerset) 81
<![if !supportEmptyParas]> <![endif]>
Day 4 Street to Dingestow (Monmouth) 83
<![if !supportEmptyParas]> <![endif]>
Day 5 Dingestow to Kinnerley ( Shropshire) 88
<![if !supportEmptyParas]> <![endif]>
Day 6 Kinnerley to Ainsdale (Merseyside) 77
<![if !supportEmptyParas]> <![endif]>
Day 7 Ainsdale to Wray (Cumbria) 96
<![if !supportEmptyParas]> <![endif]>
Day 8 Wray to Annan (Dumfries) 73
<![if !supportEmptyParas]> <![endif]>
Day 9 Annan to Brodick, Arran (N. Ayrshire) 97
<![if !supportEmptyParas]> <![endif]>
Day 10 Brodick to Ardnashaig (Argyll) 46
<![if !supportEmptyParas]> <![endif]>
Day 11 Ardnashaig to Ballachulish (Argyll) 78
<![if !supportEmptyParas]> <![endif]>
Day 12 Ballacullish to Beaully (Invernesshire) 82
<![if !supportEmptyParas]> <![endif]>
Day 13 Beaully to Dunbeath ( Caithness) 97
<![if !supportEmptyParas]> <![endif]>
Day 13.5 Dunbeath to John O' Groats 37
<![if !supportEmptyParas]> <![endif]>
<![if !supportEmptyParas]> <![endif]>
TOTAL 1069 miles
Dedications
<![if !supportEmptyParas]> This account is dedicated to my wife Linda who manned Mission Control thereby allowing me the freedom to cycle from the bottom left hand corner to the top right hand corner of mainland Britain. Without her support, encouragement and most importantly permission, the personal journey would not have been possible. My thanks also go to the text mates who kept in touch via the wonders of modern technology, offering direct support and encouragement. More than that, the simple fact that they were in work and I wasn't, acted as a great incentive during the whole of the journey. Special thanks go also to Phil for his critical comments and general enthusiasm for the project. Finally thanks to Marion for inspiring me with her determination and courage
<![if !supportEmptyParas]> <![endif]>
Foreword
I decided to write this account of my journey from Land's End to John O' Groats for myself and for family and friends. The purpose was to enable them to share the experience if they wished, without the necessity to listen to me droning on endlessly like an End To End bore. This in turn leaves me ample opportunity to drone on about other more trivial matters. I have shied away from a chronological, blow by blow approach ….It was day 9 with 97 gruelling miles ahead through bandit territory and a monsoon, challenging and dangerous. Right Lindsay lets off-road!!!!!!!!!!! Instead the account represents random jottings of what was a very personal journey with my own observations on the people, the scenery, the highs, lows and in betweens of a two week trip in July 2003, a trip which I refer to as LE JOG 2003 ( Lands End – John O' Groats, clever eh?) in homage to Le Tour 2003 (Tour de France), parts of which events overlapped. With no experience of writing I have gone for the 'stream of consciousness' approach. The account was written on a number of warm summer evenings in August 2003 and appears as the recollections of events came back to me.
Why LE JOG?
<![if !supportEmptyParas]> In the summer of 2003, in my fiftieth year, I celebrated if that is the word, working in the NHS for 30 years, as well as working in the same hospital for 20 years. I had always planned to commemorate these anniversaries with some event, although what was never certain. Somewhat surprisingly to both myself and my friends and colleagues, I was given the opportunity to take early retirement. This presented me with that rare gift these days of time. For a considerable period I had always enjoyed and been stimulated by my work, but the past few years however, I had noticed a waning in commitment and enthusiasm for the daily grind of the target achievement and political illusion involved. Early retirement therefore presented me with the chance of an 'amicable divorce' from the job. Although I prefer to believe that, as I was never married to the job merely co- habiting, it was more of a permanent separation than a divorce.
Like many men of my age I had merely reached a time when I was looking for something younger, sexier and more exciting. The NHS no longer fitted the bill in that respect. Additionally like many people of my age in a sedentary position, (isn't a sedentary position just sitting down?) anyhow I was getting fat. I therefore had another objective which was to lose weight and get fitter. On the subject of diets perhaps I can be allowed a small digression? I had tried diets in the past, most recently at Christmas time I tried the diet involving the substitution of special shakes for breakfast and lunch. Whilst I did lose a few pounds, the main effect was to give me severe heartburn and acid reflux, a condition which resulted in a gastroscopy and a pi**ing contest with a surgeon as to whether I could have it performed without a sedative. Now there is an experience we should all have to go through! After that I tried the total alcohol diet, no food just alcohol. Very popular with students, I believe. ….I lost three days one week on that one.
<![if !supportEmptyParas]> Anyway, back to the account.
<![if !supportEmptyParas]> I put all of these objectives together, the 50th year, the 30th and 20th work anniversaries, the weight loss and the fitness thing and for good measure I thought why not try and raise some money for a charity like Childline. So then, what could I do? I know, I told myself, why don't you stop reading about the Land's End to John O' Groats bike ride in that book you bought in 1996, get off your fat backside and do it. Brilliant!! The only drawback I could see was that a journey of 1000 miles would require a level of stamina and fitness, if it was to be done without major discomfort. As luck would have it I had actually cycled almost 3000 miles since the New Year at an average of 120 miles per week. Now what were the chances of that then? The die was cast. The timetable was set for a start on 15th July 2003 and a finish date of … to be determined.
<![if !supportEmptyParas]> Childline
A word about my chosen Charity.
<![if !supportEmptyParas]> I chose to raise money for Childline because I support the work they do for children who feel they have no-one to turn to for help. It is the only organisation to offer all children free and confidential advice,24 hours a day. It is so good to know that people are out there providing such a service. The media is full of stories of children who are bullied, abused or victimised and it is so important for them to have someone to turn to when they are in desperate need or in danger. It is reassuring to know that Childline are working to protect young people who are at risk from harm and to help them to resolve problems in their lives. My first association with Childline was in 1994 when they offered me the opportunity to run the London Marathon for their team. As well as the event itself which was a fantastic experience, I had the chance to have tea with one of the patrons of the team namely Sir Bobby Charlton. So far the only time I have eaten with a member of a World Cup winning team and not the only Manchester United player to set a trend in hairstyles.
<![if !supportEmptyParas]>
Halfway to the Top with friends from work
Logistics
<![if !supportEmptyParas]> On the previous long distance rides I had undertaken in the past, namely the C2C (Whitehaven to Sunderland) in 1996 and Trans Pennine Trail ( Southport to Hornsea) in 1999, the most complicated aspect is always getting rider(s) and bike(s) to the start point and/or home from the finish. Living in the North West of England, roughly half way from the start & finish point, meant that I had both logistical problems to deal with. One of the ways I considered to address this issue was to cycle home from Land's End and then cycle home from John O ' Groats. So instead of an End to End ride, a two Ends to the Middle. Well it was different but it just didn't have the romance of the original, also the second part of the ride might be downhill, as many people have quipped, but it would be against the prevailing South Westerly winds. My approach was to sort out the start of the ride and worry about the finish at a more appropriate time. I was slowly getting the hang of this retirement mañana idea. So then, cycle to Wigan, train to Penzance via Plymouth, £18 Virgin advance booking and only £1 for the bike, "Bobs your Banana", Cycle from Penzance to Land's End, turn the bike north and pedal home regardless. What could possibly go wrong?
Well dear reader, to find out you must persevere.
Routes and Maps
<![if !supportEmptyParas]> I used the Phil Horsley, "Land's End to John O' Groats - The Great British Adventure" as my guidebook. This uses mainly 'B' roads and follows the West Coast of Scotland before crossing to the East Coast through the Great Glen alongside Loch Ness. The book is full of helpful advice on the places en route and proved very useful throughout. My only trouble with getting lost on the route was generally associated with inventing my own shortcuts, a habit I quickly grew out of. To supplement the guidebook I used Ordnance Survey Road Travel Maps 1:250,000 scale. These proved more than adequate, with 5 maps purchased on the way, covering the route used namely:-
<![if !supportEmptyParas]> <![endif]>
Map 7 South West England & South Wales
Map 6 Wales & West Midlands
Map 4 Northern England
Map 3 Southern Scotland & Northumberland
Map 1 Northern Scotland, Orkney and Shetland
<![if !supportEmptyParas]>

Technical Stuff
<![if !supportEmptyParas]> The bike used on the ride is a custom built tourer from Paul Hewitt cycles in Leyland, Lancashire. The bike has been with me since February 1999 and its cost was £1100 but its value to me is priceless. I am not very technically minded, as those who have ridden with me in the past will testify, therefore whilst I don't understand half of this stuff, I have included it for the benefit of those who might.
<![if !supportEmptyParas]> <![endif]>
<![if !supportEmptyParas]>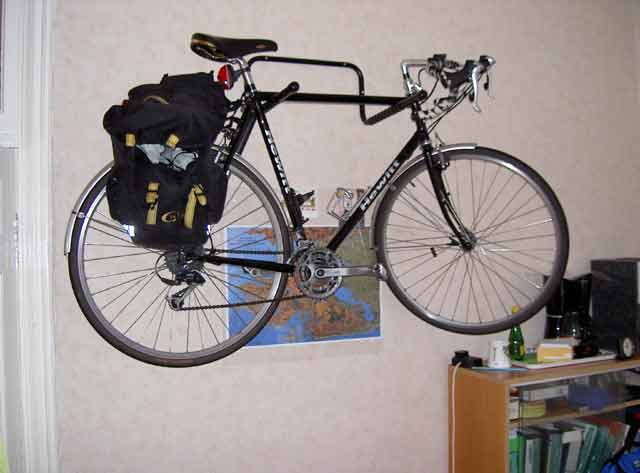 The thoroughbred
<![if !supportEmptyParas]> <![endif]>
Frame PH Cotswold Extralight o/s
<![if !supportEmptyParas]> <![endif]>
Headset Stronglight A9
<![if !supportEmptyParas]> <![endif]>
Front Mech Lx mega9 d/p 286 conv
<![if !supportEmptyParas]> <![endif]>
Rear Mech Lx SGS
<![if !supportEmptyParas]> <![endif]>
Chainset Alivio
<![if !supportEmptyParas]> <![endif]>
Levers Shimano Tiagra Triple
<![if !supportEmptyParas]> <![endif]>
Rims Ambrosio Prestige
<![if !supportEmptyParas]> <![endif]>
Tyres Schwalbe Marathon
<![if !supportEmptyParas]> <![endif]>
Pedals Wellgo SPD
<![if !supportEmptyParas]> <![endif]>
Mudguards Esge
<![if !supportEmptyParas]> <![endif]>
Rear Rack Topeak
<![if !supportEmptyParas]> <![endif]>
The bike performed magnificently on the ride with only the occasional missed gear, usually as a result of lack of forethought on the rider's part when approaching some of the steeper climbs. I did, however, notice some odd noises and vibrations from the transmission at the half way point, as a precaution, and perhaps something I should have done before the ride began, I checked the bike into the shop for a service and transmission change. The shop owner on hearing of my charity ride agreed to carry out the work for the cost of the parts alone. Not for the first time was I struck by the kindness of strangers. The added benefit of this work allowed me the luxury of a rest day at home before setting out on the second half of the trip with a fully functioning and very clean bike to boot.
Accommodation
<![if !supportEmptyParas]> I started the journey using Youth Hostels for the first two nights. Initially I stayed in Penzance hostel on the night before the ride proper. I booked a second night in the hostel at Tintagel which gave me the target for the first day's ride. My intention was to divide the various stays on the trip between hostels for economy, use of drying facilities, company and convenience, with B&B's for the odd night of relative luxury. Hostelling is an acquired taste and I'm afraid that, whilst it was nice to have the company of like minded individuals to talk with at the end of a tough day, I wearied all too easily of the sharing of a dormitory with strangers. Other downsides of hostelling, for me, in addition to the above include:
<![if !supportEmptyParas]> <![endif]>
Last man in (i.e. me) gets a top bunk, which is awkward if you have to get out in the middle of the night, in the pitch black to go to the toilet. Strangely enough men of my age have to do that quite often.
<![if !supportEmptyParas]> <![endif]>
Last man in (me again) has nowhere to hang his wet gear in the drying room.
<![if !supportEmptyParas]> Communal toilets and showers (What's that thing in the plughole? Ugh!)
<![if !supportEmptyParas]> Self Catering with 20 people trying to cook all at once.
<![if !supportEmptyParas]> No room to swing a cat or sort your gear in the dorms.
<![if !supportEmptyParas]> Whilst everyone looks honest and upright, what do you do with your valuables to keep them safe.
<![if !supportEmptyParas]> Those sheet sleeping bag things are a nightmare. Mine usually ended up as a scarf round my neck.
<![if !supportEmptyParas]> Not to mention the snoring, farting and scratching …… and that was just the women.
<![if !supportEmptyParas]> Joking aside there are many positives to hostelling and I will continue to stay a member of the YHA and use hostels on other trips. I think for LE JOG the benefits of having my own space and occasional en-suite facilities were not to be underestimated. Hostels provide good quality low cost accommodation in fine settings as well as camaraderie. It is a question of choice and I was fortunate to be able to afford a better choice. The Tintagel Hostel did have a friendly atmosphere and was in a fantastic setting on the edge of a cliff, facing the Atlantic Ocean. On this latter point, I have to say that I arrived at 7.30 pm ( last man in) on a foul day, through torrential rain and clouds so low and dense that I cycled right past a massive Wind Farm without seeing any of the huge generators, just hearing their great whoosh off to the side. It was also the longest and hardest day that I have ever ridden on a bike. The hostel was reached down hill on a muddy track about a half mile from a proper road and has one or two side tracks to further complicate matters. After only two panic attacks I eventually spotted the dim lights of the hostel ahead of me. All of this was accompanied by the sound, but not sight, of the waves battering the coastline. A brief stroll on a clearer, following morning revealed that I was only 10 meters away from a drop in the ocean, which would have proved an inauspicious start and end to the trip and would not have done much for the bikes paintwork. I refer to this now as my latest near death experience.
<![if !supportEmptyParas]> <![endif]>
Tintagel YHA at the edge of the Atlantic Ocean
From Tintagel onwards I decided on a different strategy for accommodation and left the joys of hostelling behind. Initially this was because at my next chosen destination the hostel was full, therefore I moved into B&B land. I stayed in a succession of guest houses, booked via the Tourist Information Offices in England with a variation in Scotland, which we will come to in due course.
<![if !supportEmptyParas]> I have sketched out a pen picture of the various establishments and their respective charms as follows:
<![if !supportEmptyParas]> <![endif]>
17 July Through the last hills of Cornwall and into Devon to Charlacott House, a 19th Century, Grade 2 listed building. £22.50 per night. Landlady a former resident of Ainsdale. Close to the town centre and, more importantly, a launderette, where clean dry kit could be produced.
<![if !supportEmptyParas]> <![endif]>
18th July Hilly out of Devon, but beautiful villages, before a fast flat ride to Kasuli B&B in Street, Somerset. The village was built by the Clarks shoe family to house their workers. As you might imagine it is very comfortable but expensive and the residents are "well heeled".
<![if !supportEmptyParas]> <![endif]>
19th July Fairly flat and rapid progress through Somerset, a county I warmed to. Some dodgy bits around the Severn Bridge on the outskirts of Bristol (scenes from " the film Deliverance" come to mind) and on through the fabulous Wye Valley to Pen-y-Clawdd farm near Monmouth. As it was a Saturday with the regimental dinner on in the town, a music festival at Tintern Abbey and a wedding in the valley, it was hard to get accommodation. The ladies at the Tourist Information Office however never give up and a suitable place found, just a little off my chosen route. I actually believe that if they were around 2000 years ago, Mary and Joseph would have been found somewhere better than a stable (even though it was Christmas).
<![if !supportEmptyParas]> <![endif]>
20th July To make up some time I went via main 'A' Roads through Hereford, Leominster, Ludlow and Shrewsbury to end up at Meadow Bank Lodge near Oswestry. The nearest village is Knockin and the local store has the sign "Knockin Shop" proudly on display.
No Sex Please- The Knockin Shop
<![if !supportEmptyParas]> <![endif]>
<![if !supportEmptyParas]> <![endif]>
<![if !supportEmptyParas]> <![endif]>
21st July Through the quiet lanes of Shropshire into Cheshire with time to pay a call on my old boss, Albert, still sprightly in his eighties. I first met Albert in November 1975 when I went to work for him as a Deputy Hospital Manager in a hospital in Cheshire. He was an interesting character, and still is. A blunt Lancastrian and ex RAF. It was my first senior position in the NHS and he taught me many things. Some I used in my career, some I quickly discarded as they were his particular style of working. Two memories abide however. Firstly he taught me how to shoot a Lee Enfield 303 rifle. I hasten to add that Albert was at the time an instructor with the ATC and I joined him and his lads for training on a couple of occasions. I have often thought as my career progressed and I came across awkward characters that I could have found a use for that shooting skill.
Secondly he used a pet name for ladies of whom he was fond by calling them "Venus". Since his retirement I have taken the liberty of borrowing this title to be used sparingly for individuals. I'm sure this is not PC and many people may feel it is patronising or demeaning however nobody seems to have taken offence to date. Anyhow, after surprising Albert and sharing a cuppa and biscuits I was on my way again up the Wirral peninsula, crossing the Mersey and on towards Ainsdale and home. Great accommodation, lovely food, friendly owners.
23rd July After a day to rest and to service the bike, the trip continued with a photo call at the local hospital and my former workplace, before progressing through the lanes and side roads of Lancashire and Cumbria. Pausing to chat to Eleanor the lady in Brigsteer with the most colourful garden I had seen in 500 miles, I eventually arrived in the Lake District accompanied by light rain which got heavier until my destination at High Wray Farm. This was promised by the Tourist Information office to be 5/10 minutes from the village…..by helicopter presumably. The farmer's wife Sheila was most hospitable and dried all my gear on the Aga. The following day she also very kindly gave £10 to Childline.
<![if !supportEmptyParas]> <![endif]>
24th July Through the Northern Lakes to Carlisle and across the border to Scotland at Gretna. The Scottish Sheepdog trials were being held in the area so again it was difficult to find accommodation. I eventually ended up in the Corner House Hotel in Annan. Very strange place with separate male and female toilets and bathrooms. A bit like a hostel but with individual rooms. Anyway the young lad on reception debated long and hard as to the best place to keep the bike safe and in the end settled on letting me keep it in the room. I leave you to draw your own conclusions on that one.
<![if !supportEmptyParas]> <![endif]>
This was the last accommodation I was to book for myself. Up until this day I had prided myself on being completely self sufficient. I organised trains, tickets, accommodation, routes, meals, money and all. For the benefit of those who don't know me this is extremely untypical. My wife Linda, usually takes care of these matters for the very good reason that firstly she is better at it than I am and secondly I have a problem with keys, tickets, money and important pieces of paper. I have an uncanny knack of losing these things within seconds of them being placed in my hand. It's a gift I suppose but there we are.
<![if !supportEmptyParas]> <![endif]>
The reason for the change in arrangements is explained by the following day's events.
<![if !supportEmptyParas]> <![endif]>
25th July I aimed to get to Arran via the ferry at Ardrossan. I knew this would be a long day of 90 plus miles and decided to take the shortest, and by far the least scenic route, on the A76 to arrive in time for the 6pm Ferry. The reason for this mad dash across Dumfries & Galloway and Ayrshire was the belief, mistaken as it turned out, that a friend was staying on the island in his caravan and if need be I could crash with him for the one night. My research told me that there was a Tourist Office in Irvine about 8 miles from the ferry point, so I set off for there and arrived, as expected, about 4pm after a fairly horrible day across unspectacular landscape, surrounded by speeding vehicles. The Information office was supposed to be located in a plush retail development which was the place all the signs pointed me towards. I was not to know that the office had closed some 9 months earlier and the nearest alternative was 20 miles in the wrong direction and too far for me to reach either before the ferry sailed or they closed.
<![if !supportEmptyParas]> <![endif]>
In such circumstance there are only two real alternatives for a man to pursue, either ring your Mum or your wife, I chose the latter. With ruthless efficiency she contacted the Scottish Tourist Board and sorted out a B&B in Brodick, Arran, whilst I pedalled to catch the ferry.
<![if !supportEmptyParas]> <![endif]>
A new pattern was established, namely I would plan the route, and about midday Mission Control, as it became known, would book a suitable room for the night. Never one to be terribly enthusiastic for modern technology like the mobile phone, I rapidly changed my view on this now essential piece of kit for the Cycle Tourist.
<![if !supportEmptyParas]> <![endif]>
That evening was spent at the Belvedere Guest house, in the company of Chris, Jan and their guests. With the sun setting over the bay and they provided me with a fabulous meal as their contribution to the Charity ride.
<![if !supportEmptyParas]> <![endif]>
<![if !supportEmptyParas]> A Deer friend I met on Arran
26th July Across the Island of Arran and a ferry to Claonaig, Kintyre. I saw the "Paps of Jura" (ooh er missus) for the second time. The first being some years before on a cycling trip in Northern Ireland at Ballycastle harbour. I spent the morning riding across the island looking up to the hills for signs of wild deer and seeing none. To my surprise I arrived in the village of Lochranza to be confronted by a magnificent doe less than 10 feet away munching on the grass at the side of a house. My room that night was in the Grey Gull Inn at Ardrishaig, an establishment with the added bonus of having its own launderette.
<![if !supportEmptyParas]> <![endif]>
27th July Over the hills to Oban and beyond, ending up at Ballachulish in the Brudair Guest House, nestling in the shadow of Ben Nevis. Vegetarian haggis, tatties and neeps in a local restaurant overlooking a sunny Loch Leven, ended a good day. By the way veggie haggis is just like the real thing except for the sheep's stomach and the other bits of the sheep that nobody wants. In reality it is soya and onion, but tasty all the same.
<![if !supportEmptyParas]> <![endif]>
28th July Through the Great Glen alongside Loch Ness and up a hill which the guidebook described as "punchy" hmm!! I suppose these things are relative but I would have described it more like cycling up a vertical wall myself. Stayed that night outside Beaully at the Cruachan B&B.
Another £5 donation from Isabella the landlady. Aren't people kind?
<![if !supportEmptyParas]> <![endif]>
29th July A tough day with an abortive detour to Dingwall to try and book a train home the following day. Met my first cycling pal, Peter originally from Bradford but more of him later. Strange countryside with arable farming on one side in stark contrast to the Oil and Gas rigs a few hundred yards to the left in the Cromarty Firth.
<![if !supportEmptyParas]> <![endif]>
Two grinding ascents at 80 miles and then a gentle downhill into Mrs McDonald's farmhouse B&B at Dunbeath. No strength to look for something to eat that night so I made up a picnic from what was in the bags, namely Blue Ribands (remember them?), a banana and the remains of a packet of polo fruits.
<![if !supportEmptyParas]> <![endif]>
<![if !supportEmptyParas]>
<![endif]>
Star of Highlands Calendar- Mrs MacDonald's Farmhouse
30th July Final spurt to the finish of 38 miles which started off with a rousing rendition of "Mrs McDonald had a farm." Arrived at John O' Groats 11.30am, time for phone calls and photos and then 18 miles back to Wick for the trains home. Train Journey started at 4.15pm Wednesday and ended at Preston Station at 4.30am the following morning. By far the most tedious part of the whole two week trip.
Victuals
I should perhaps make it clear that whilst I am neither a faddy eater nor a food snob, I am a non meat eater I gave up eating meat in 1989 after reading an article on a day in the life of an abattoir worker and thought what a bizarre and unappealing way of obtaining food. As I do eat fish I am not strictly a vegetarian, I believe the phrase most appropriate is a demi-vegetarian.
<![if !supportEmptyParas]> <![endif]>
The best meals on the whole trip were generally the breakfasts which usually set me up for the rest of the day. Lunch tended to consist of soup and a roll in an appropriate cafe en route, or whatever I had in the bags. Evening meals were dependant on how close I was to a suitable eating place, what the weather was like or how knackered I was. Anyway the awards for the best and worst in the food stakes go to the following:
<![if !supportEmptyParas]> <![endif]>
Best Breakfast Meadow Bank Lodge near Oswestry-- Scrambled eggs a la Delia
<![if !supportEmptyParas]> <![endif]>
Worst Breakfast Tintagel YHA—Saddle bag surprise (Bread roll and Milky Way)
<![if !supportEmptyParas]> <![endif]>
Best lunch Carrot, ginger and honey soup in a café in Dornoch Sutherland. The village where Madonna got married, apparently.
<![if !supportEmptyParas]> <![endif]>
Worst Lunch Café in Cullompton, Devon. The waitress was the rudest I have ever met. In a room about the size of my kitchen she was able to walk right past you and pretend she hadn't seen you. By 12.30 all the home made soup was gone (must have only had one tin!) The wait for a sandwich was 15 minutes. I could go on but in the end it was so funny to watch the faces of poor unsuspecting victims as they arrived in what appeared to be a delightful café, in an attractive Devon village.
<![if !supportEmptyParas]> <![endif]>
Best Evening meal Dinner at Belvedere Guest House, Brodick, Arran. Excellent vegetarian fare with good conversation from the hosts Jan and Chris and a lovely mum and daughter from Glasgow on holiday. The daughter, Ann Marie, was one of a few teenagers playing Rugby League in Scotland. Mum was hoping she would continue to play as a prop forward as she didn't relish telling people her daughter was a hooker!!
Worst Evening Meal Well known chain of road side restaurants on A40 in Monmouth just edged out the saddle bag picnic in Dunbeath.
<![if !supportEmptyParas]> <![endif]>
The Case of the Missing Cyclists
<![if !supportEmptyParas]> <![endif]>
One of the surprising aspects of the trip was the absence of fellow cyclists along the route. I maybe mistaken but I am unaware of any cyclist overtaking me during the whole 1069 miles. I expected to be passed on a regular basis by lycra clad Lance Armstrong look-alikes, but either they were too busy watching Le Tour or were on a different route. I did however meet a Dutch couple on't tandem waiting for the Hawkshead ferry. They were also on an End to End route, having set out two days before me and hoped to take in the Hebridean Islands of Harris & Lewis en route. On the Black Isle, Cromarty, Scotland I did come across a fellow rider, Peter Koch-Osborne who joined me for approximately 12 miles to the Nigg ferry. Peter, it turned out, is from Yorkshire now living in Beaully and modestly confessed to now basing himself in Scotland to write the odd mountain biking and walking guide. He was, in the words of a colleague, a top bloke, not only encouraging me in my efforts, but exchanging his phone number & address in case I needed any help to finish the ride or get home. A thorough gent! On returning home I looked him up on the internet and he is an author of considerable note, of walking guides to the wilder parts of Scotland. Our ride together started with an exchange of greeting to which I heard "that's a northern accent, where are you from?" and ended with him saying animatedly, "see I can say 'ay up' and you don't look at me strangely or come back with what or pardon? ". Simple stuff I know but it gives you a great boost to meet genuine people like that on the road.
<![if !supportEmptyParas]> Whilst there may not have been many cyclists on the road, I did notice a new phenomenon. The number of cars carrying bikes must have been in the thousands compared to those riding bikes I could count on my fingers. The only conclusion I can draw from this is that bicycles are now jewellery or fashion accessories for cars. People drag these things hundreds of miles on holiday to unload them and perhaps nip to the shops for a paper, then load them back onto the car and go home.
<![if !supportEmptyParas]> <![endif]>
My only cycling companion in 1000 miles - Peter Koch Osborne

Ablutions

<![if !supportEmptyParas]> <![endif]>

There is a new concept which maybe of some interest to the tourist authorities in Cornwall. The concept is known as a public convenience. During the day and a half I was cycling through that great tourist destination, I found one public toilet in Newquay that was open. Other facilities were either out of use or non-existent. Regrettably therefore, I have to confess to the odd al fresco evacuation (number ones) to avoid a burst bladder. I even perfected a technique of peeing on the bike whilst stationary and studying the map for the benefit of passing cars. A new skill which I feel will stand me in good stead and will gladly share with colleagues in the future. Obviously this particular technique only works for gents. For ladies I know of one female cycling author who favours the use of a cycling cape whilst squatting on the side of the road. I'm not sure whether you can perfect a nonchalant stance with this particular approach in the middle of a hot summer's day but there we are. Apart from Cornwall, no great problems in this respect, although I was appalled to have to pay 20p for the privilege of a pee in Dumfries. Despite trying very hard I didn't get my money's worth there.

<![if !supportEmptyParas]> By contrast with Cornwall, most of the villages in Scotland provide facilities for the passing cyclist or motorist. These were remarkable for their cleanliness and absence of any strange geezers hanging about (excluding the author in his overstretched lycra of course). One in Wick even had shower facilities.




Zen & the art of cycling

<![if !supportEmptyParas]> <![endif]>

At the outset of the trip I had intended to use the time available to come to some conclusions as to what I wanted to do with the rest of my working life. In addition, I thought it would be helpful to consider some of the wider philosophical questions on the meaning of life. I settled on the examination of three key questions.

<![if !supportEmptyParas]> <![endif]>

Firstly

If a journey of a thousand miles begins with the first step, (– ancient Chinese philosophy) does that mean a cycle ride starts when you get on or when you get off?

<![if !supportEmptyParas]> <![endif]>

Secondly

If you steal £1 and buy a lottery ticket and win the jackpot, should you:

<![if !supportLists]> a) <![endif]> give just the £1 back to the person you stole it from

<![if !supportLists]> b) <![endif]> give the £1 plus some interest back

<![if !supportLists]> c) <![endif]> give all the winnings back.

A tough moral/ethical dilemma this, thanks to James Joyce.

<![if !supportEmptyParas]> <![endif]>

Thirdly

From that great British philosopher, Barry Cryer, "what happens to your lap when you stand up?"

<![if !supportEmptyParas]> <![endif]>

After many hours of conversations with myself over the miles on the journey home, I settled my position on these weighty issues as follow:-

<![if !supportEmptyParas]> <![endif]>

<![if !supportLists]> 1) <![endif]> It starts when you 'cock on'.

<![if !supportLists]> 2) <![endif]> Give the £1 back and do good things with the winnings to make a difference to the lives of people who are less fortunate.

<![if !supportLists]> 3) <![endif]> The lap can be viewed as a concept rather than a reality. As in the case of genitalia with extremely obese people, they can't see them but have to believe they are there.

<![if !supportEmptyParas]> <![endif]>

I sleep much better now having cracked these three major questions in my life.

<![if !supportEmptyParas]> <![endif]>

<![if !supportEmptyParas]> <![endif]>

<![if !supportEmptyParas]> <![endif]>
A "Ben" moment at Ballchulish

Serendipity
<![if !supportEmptyParas]> <![endif]>
I am forever boring people with the coincidences that occur so frequently in my ordinary little life. So did the trip throw up any such strange occurrences – funny you should ask? I have outlined just two examples.
<![if !supportEmptyParas]> <![endif]>
<![if !supportLists]> 1. <![endif]> The Elderly Couple
<![if !supportEmptyParas]> On the train journey to Plymouth, I was aware of a couple opposite. They were anxious, as I was, to ensure that the delay of the train by 20 minutes did not interfere with connections to other trains. In my case it was a connection to Penzance and in their case a change at Bristol to Cardiff. I thought no more of it, however, five days later whilst having lunch in a cafe in Leominster, this same couple walked past the café window, just like characters in an Alfred Hitchcock movie. I spent the rest of the trip, whenever I was in a café, waiting and watching for them to reappear. They didn't of course.
<![if !supportEmptyParas]> <![endif]>
<![if !supportLists]> 2. <![endif]> Ainsdale
<![if !supportEmptyParas]> Having selected a B & B in Okehampton at random, I was surprised to find the only two bedrooms in the house to be named Sudbury and Ainsdale respectively. My address is Sunbury Drive, Ainsdale. I was allocated Sudbury room and later that evening I went out for a meal and was chatting with a couple in the restaurant who it turned out were staying in the Ainsdale room. Spooky!
<![if !supportEmptyParas]> <![endif]>
<![if !supportEmptyParas]> <![endif]>
The case of the flying pornography
<![if !supportEmptyParas]> <![endif]>
How many porno mags were thrown at me during the journey?
<![if !supportEmptyParas]> <![endif]>
I was minding my own business trundling down the lanes of Lancashire, when a magazine was thrown towards me from a passing delivery vehicle. I mean you have to stop and investigate don't you? The mag turned out to be a special Readers Wives supplement. Now the question is what do you do next? The little devil on the shoulder said "Take it with you. You've only got Joyce's 'Portrait of the Artist' to read and you might want something a tad lighter". The angel on the other shoulder said "What if you got run over and taken to hospital and they found it in your bag? It would be a worse crime than having dirty underwear". A dilemma, dear readers, so what happened? Well after a quick look revealed that there were no neighbours, relatives or colleagues at work featured, just a bunch of rough looking tattooed women, the mag was disposed of in a suitable receptacle for the 'binnies' to discover – honest!
<![if !supportEmptyParas]> The hunt for the Great British Scone
<![if !supportEmptyParas]> "What are you going to do with yourself", said friends and colleagues when I decided to retire. Well, for some years I have been researching the subject of the great British scone. Through the length & breadth of the country, I have been sampling various models before determining my personal criteria for a champion scone. Before disclosing said criteria, I think it important to settle the argument as to pronunciation. Is it scone as in 'on' or scone as in 'own'? Coming from Liverpool, with the insult of 'come 'ere scon head' ringing in the ears, I am obviously of the opinion that it is the former. (I think this will work better in the audio version, but never mind.) So scone it is. I though that the trip would be an ideal opportunity to put into practice my skills as a "sconsultant." The criteria for a champion scone, and I must emphasise that this is a personal set of criteria, are:
<![if !supportEmptyParas]> <![endif]>
<![if !supportLists]> 1) <![endif]> Nice & crumbly outside.
<![if !supportLists]> 2) <![endif]> Reasonable moistness on the inside.
<![if !supportLists]> 3) <![endif]> Good fruitiness i.e. currants.
<![if !supportLists]> 4) <![endif]> No candied fruit (ugh!)
<![if !supportLists]> 5) <![endif]> No clagginess i.e. no aftertaste that sticks to the roof of the mouth. Hard to describe, but you know it when you experience it.
<![if !supportEmptyParas]> What better opportunity to put all this research to the test than a cross Britain tour to include the supposed twin Mecca of the cream tea i.e. Cornwall & Devon. Oh, by the way, I am a personal fan of the scone with butter and not all this southern nonsense of cream, clotted cream or jam. So, how did the research go? Well, I have to confess to failure on this one. The daily mileage, frame of mind & appetite, all conspired to leave very little opportunity for serious study. However, on those few occasions where samples were forthcoming, the results were as follows:
<![if !supportEmptyParas]> <![endif]>
<![if !supportLists]> a) <![endif]> Cornish tea, French café run by Irish man at Launceston. 2/5 – not crispy enough on the outside. Too fairy cakeish.
<![if !supportLists]> b) <![endif]> Hesketh Newmarket, Cumbria. 4/5 – good, firm outside. Good fruit content with no clagginess.
<![if !supportLists]> c) <![endif]> Café Dornoch, Scotland. 2/5 – looked a winner but had a claggy aftertaste.
<![if !supportEmptyParas]> <![endif]>
<![if !supportEmptyParas]> <![endif]>
Good Scones Here at Hesket Newmarket
I have a personal theory that the best scones are made by men, (just like poached eggs). This is based on the completely arbitrary conclusion that previous benchmarks have been established as follows: Top Scone Locations
Albert Dock – Liverpool
Martin Mere – Lancashire
Norman Undercroft – Durham Cathedral
Percy Warbreck Garden Centre – Lancashire
<![if !supportEmptyParas]> <![endif]>
The theory was upset when a scone at Lucy's Tea Rooms, Southport met all the criteria until it was pointed out to me that 'Lucy' was in fact a bloke! Following a trip to Dublin, however, I am not sure whether my particular preference is for 'rock cakes' or scones, or indeed what the difference is. So, the search goes on. How people can say they have no purpose in life when they retire is beyond me!!!
Biggest disappointment & anti-climax
<![if !supportEmptyParas]> <![endif]>
I suppose this is symptomatic of the trip as a whole, in the sense that there were few downsides and disappointments throughout the whole experience. Anyway, it was the thirteenth riding day and I was in Caithness, the most northern county in Scotland. I was watching the milometer carefully as the miles tripped by the 990's mark. Just outside Dunrobin Castle, the magical figure of 999.99 miles was passed and it was with eager anticipation and slow peddling that I waited for the 1000 mile – 'mille miglia' to be reached. Imagine my crushing disappointment when the dial moved from 999.99 miles back to 0.00 miles! Nevertheless, I stopped the bike for a historic photo opportunity and to send a message to a textmate about the momentous moment.
My disappointment was short lived as Mission Control phoned with the news that bike & I were booked on the return trains from Wick to Preston for the following afternoon, upon the completion of the ride.
<![if !supportEmptyParas]> <![endif]>
<![if !supportEmptyParas]> <![endif]>
As if I'd never started
Coming home
<![if !supportEmptyParas]> I talked earlier about the logistics of getting to the start of a ride and getting home afterwards. By day 12 I had a good idea of how and when I was to finish the ride and attention focussed on the options involved. I attempted to book trains for the bike and me on reaching Beaully, where I knew from a study of the map there was a railway station. I soon discovered that this was an unmanned station and the nearest manned alternative was at Dingwall. (Home as you all know, to Ross County of the Scottish Football League Div 1). Dingwall would involve a slight detour of 10 miles or so on the following day's ride, so I relaxed in the anticipation of calling in about 9am, however on arrival I found that the station was locked up, with no sign of life. Unperturbed, I telephoned Scotrail Customer Services for advice, to be given an unnecessary explanation of why the station was not open and a sarcastic "you'll be lucky, it's very popular up there" response to whether I could get myself and bike on a train for Wick the following day. I therefore did what any self respecting cyclist would do in the circumstances by ringing Mission Control and handing the problem to wife Linda to sort it all out.
<![if !supportEmptyParas]> <![endif]>
On the rest of the morning's ride I considered the options of:
<![if !supportLists]> a) <![endif]> trains getting sorted, or
<![if !supportLists]> b) <![endif]> hiring a car (even though I didn't have my licence with me)
<![if !supportLists]> c) <![endif]> flying
<![if !supportLists]> d) <![endif]> cycling part of the way back.
<![if !supportEmptyParas]> <![endif]>
After an hour or so I resolved that whatever the difficulties involved, I was adamant that nothing was going to mar the remaining days of the journey and Que sera sera. Meanwhile at Mission Control – Contact was made with Scottish Tourist Board with whom Linda was now on first name terms, and efforts were made to find a phone number for Wick Railway Station in order to book tickets for me to collect. Car hire proved fruitless as no hire companies would consider a one way journey. The Wick Station telephone number turned out to be connected to their fax machine. This was because as we discovered later, there are only two trains per day, one early morning and one mid afternoon and consequently these are the only times the station is manned. Undeterred, Mission Control contacted Wick Police Station which just happened to be directly opposite the railway station, and the lady that took the call proved most helpful in looking out for the station staff, even offering to send one of the lads over to check. Eventually contact was made with the delightful Davina, at Wick station, who booked bike and me to Preston via Inverness on the 16.15 train, paid for by card over the phone. No problem and no thanks to Scotrail Customer Services. Far from being a problem, with all of the invisible cyclists on my route, mine was the only bike on the train from Wick to Inverness and there was only one other on the Caledonia sleeper to Euston. The train journey itself was less of a delight with four hours to Inverness and eight hours to Preston. These are the scheduled journey times with no delays and compare well with the time it takes to fly across the Atlantic and beyond. I prefer to forget about the tedium of the train journey home except to relate that as I was queuing at the buffet car, I received a call on my mobile from a text mate who asked where I was and to my eternal shame I had to utter the immortal words, "I'm on the train".
The Two Ends
<![if !supportEmptyParas]> <![endif]>
One thousand miles apart in distance the beginning and the end of the ride are different in atmosphere. Lands End is the tackier, and with low cloud and torrential rain the start of the ride at Lands End felt like a wet Whitby Wednesday in winter (how's that for alliteration?). At 9am in the morning with nobody about, I took a few miserable looking photos as the official photographer had seen sense and obviously found somewhere warm and dry to hide. I then signed the End to Ender's book in the hotel and got the hell out of there as soon as possible. The attempts to turn Land's End into a tourist Mecca may work on a beautiful sunny day but the place feels lonely and neglected and even the sunshine wouldn't disguise the laziness of the owners as to what constitutes a good tourist attraction. The contrast with John O'Groats may have something to do with the better weather, the fact that you sail into the place down the last hill of the route but more than anything I suppose because the goal has been reached and the rider is automatically on a high on arrival. Nevertheless, I am glad I did the ride from bottom to top as arriving in Land's End would have had more of an anti-climax to it simply from the view point of the environment within which it is located. Arriving at John O'Groats, having been passed en route by numerous drivers from the Netherlands on a pilgrimage to see their ancestor 'Jan de Groot', the original ferry operator after whom the place is named, was most satisfactory. Yes there are some tacky restaurants, tourist traps and so on but at least there are splendid views of the Orkney Islands and the Skerries, which make any downside easy to forget. A very pleasant young lady in the photo-booth obliged with the official End to End photo. Two for the price of one if you are riding for charity. The next half an hour was taken up with messages to Mission Control and text mates to report the conclusion of the ride and purchase of post cards.
<![if !supportEmptyParas]> The 18 mile ride back to Wick was achieved effortlessly which compared to a somewhat laboured exercise an hour or so before. Whether that was due to the wind or the euphoria of completing the ride I neither knew nor cared
<![if !supportEmptyParas]>

Keeping amused<![if !supportEmptyParas]> <![endif]>
I surprised myself with how easily the time passed each day whilst riding. An average of 79 miles per day at 11 – 12 mph meant at least 7 – 8 hours in the saddle each day with more on the days when the mileage was in the late nineties. Obviously a fair bit of time was taken up with route finding and map reading but this still left many hours to soak up the scenery and for navel gazing. As well as talking to myself, one of the great pleasures of the trip for me at least and I'm sure my audience of cattle, sheep, rabbits and the odd horse, was the robust renditions I gave those famous Monty Python songs. For the downhill sections I favoured the Sousa-esque version of 'Sit on my face and tell me that you love me' or that Eurovision type classic, 'Finland, Finland, Finland, the country where I want to be'. On the more challenging sections of the ride I resorted to the deep and philosophical aspects of 'Just remember that you're standing on a planet that's evolving and revolving at nine hundred miles an hour'. For general trundling along I used the song 'I like Chinese, I like Chinese, they only come up to your knees' and for spiritual guidance, 'Every sperm is sacred, every sperm is great, If a sperm is wasted, God gets quite irate'. So I hope from the above you will see that the ride offered many opportunities for cultural enhancement.
<![if !supportEmptyParas]> Drivers & driving etiquette
<![if !supportEmptyParas]> <![endif]>
Whilst the majority of the route is spent on 'B' roads, in order to make up time I was forced to use 'A' roads on regular occasions. All of this gave me an opportunity to judge the driving habits of car users over many days. In the past I have been made aware of the selfish and abusive attitude of car users towards cyclists such as myself. I have also read in a lot of cycling magazines the opinions of other cyclists and the horror stories they tell. For the vast majority of the time I found that motorists treated me with great patience and courtesy. I often found myself at the head of a queue of traffic on winding country lanes and I can't remember an occasion when any vehicle rode me off the road or used the horn or made abusive gestures. Most drivers seemed to assume that the bike panniers were about six feet wide when overtaking and acknowledged my thank you waves for your patience as they finally overtook me. When labouring up hills it was common to receive an encouraging wave from oncoming traffic. Now I pride myself on my lack of xenophobia (although as a rule Americans can test this) however, I did notice particularly on the roads through Scotland that the nationality of drivers who got closest to me whilst overtaking – surprisingly were the Dutch. Whether this is because a) they were in left hand drive vehicles or b) they are used to cyclists on the road and feel they know how close they can drive, I have no idea. To my fellow cyclists I would say beware of Nederlanders and particularly of Nederlanders towing caravans!
<![if !supportEmptyParas]> <![endif]>
There are many rivers to cross…….
<![if !supportEmptyParas]> <![endif]>
I thought it would be illuminating to me at least to review the major rivers/water ways crossed during the route.
<![if !supportEmptyParas]> <![endif]>
| | | |
| --- | --- | --- |
| River | Where? | How? |
| Camel | Padstow, Cornwall | Ferry |
| Tamer | Launceston, Cornwall | Bridge |
| Exe | Thorverton, Devon | Bridge |
| Avon | Bristol, Avon | Bridge |
| Severn | Bristol, Avon | Bridge |
| Wye | Monmouth (shire) | Bridge |
| Wye | Hereford (shire) | Bridge |
| Severn | Shrewsbury, Salop | Bridge |
| Dee | Chester | Bridge |
| Mersey | Birkenhead, Merseyside | Ferry |
| Ribble | Preston, Lancs | Bridge |
| Wyre | Garstang, Lancs | Bridge |
| Lune | Lancaster, Lancs | Bridge |
| Kent | Leven Bridge, Cumbria | Ferry |
| Lake Windermere | Bowness, Cumbria | Bridge |
| Eden | Carlisle, Cumbria | Bridge |
| Esk | Longstown, Cumbria | Bridge |
| Annan | Annan, Dumfries | Bridge |
| Nith | Dumfries (shire) | Bridge |
| Firth of Clyde | Ardrossan (Ayrshire) | Ferry |
| Kilbrannan Sound | Lochranza (Arran) | Ferry |
| E.Loch Tarbert | Tarbert, Argyll | Bridge |
| Crinan Canal | Ardishais, Argyll | Swing Bridge |
| Loch Etive | Connell, Argyll | Bridge |
| Loch Creran | Creggan, Argyll | Bridge |
| Loch Leven | Ballachulish | Bridge |
| River Lochy | Spean Bridge | Bridge |
| Loch Oich | Invergorry | Bridge |
| River Glass | Beaully | Bridge |
| River Canon | Canon Bridge, Invernesshire | Bridge |
| Cromarty Firth | Cromarty | Ferry |
| Dornoch Firth | Tarlogie | Bridge |
<![if !supportEmptyParas]> <![endif]>
Of these water crossings:-
<![if !supportEmptyParas]> <![endif]>
The most disconcerting was the Severn Bridge at Bristol. A huge expanse of water separating England from Wales. Nobody in front or behind and the wind whipping through the massive steel cables. The bridge has a span of almost a kilometre and believe me it sways and vibrates considerably. The most nostalgic was the Mersey ferry crossing on the Royal Daffodil from Woodside Birkenhead to the Pier Head Liverpool. Many is the time I had watched the ferry or ridden on it with my brother and father, as a Sunday treat in the late fifties and early sixties.
The quaintest crossing was on the Nigg ferry. 'Wasn't that guarded by the Knights who say 'Nigg' in the Monty Python Holy Grail film? This is the smallest car ferry in service in the UK. The ferry officially known as the "Cromarty Rose" but unofficially as the "Floating Skip", runs every half hour and has space for two cars which drive straight on to a turntable. This is then rotated so that they can drive straight off at the other side. Well worth a 900 mile ride to witness it I can assure you. The prettiest crossings are probably the Wye Valley between Chepstow and Monmouth. Just glorious countryside straddling the English & Welsh borders, with the added bonus of Tintern Abbey ('Tis an abbey!!) on the way.
<![if !supportEmptyParas]> <![endif]>
<![if !supportEmptyParas]> <![endif]>
The "Skip" in all its Pomp
<![if !supportEmptyParas]> <![endif]>
Miscellany and Trivia
Counties Traversed
<![if !supportEmptyParas]> <![endif]>
Cornwall
Devon
Somerset
Avon
Monmouthshire
Gloucestershire
Herefordshire
Shropshire
Cheshire
Merseyside
Lancashire
Cumbria
Dumfries & Galloway
E. Ayrshire
N. Ayrshire
Argyll & Bute
Highlands
Ross & Cromarty
Sutherland
Caithness
<![if !supportEmptyParas]> <![endif]>
Acts of God
Total number of canals cycles along which collapsed within 48 hours? – just the one section between Parbold and Appley Bridge. Strictly speaking, this was en route to Wigan Station on the day before the ride proper began. When I found out about the canal subsiding I did have this weird fantasy that within 48 hours of me cycling through a particular place it suffered a strange and catastrophic fate. How egotistical is that then?
Boo Hiss
Total number of punctures in 1069 miles = nil. (Though within a week of coming home a thorn in the tyre put paid to my new record). Total number of bum blisters in 1069 miles = nil.
<![if !supportEmptyParas]>
Ahh Bless! Sweet
Total number of people who asked in the tourist information office Gretna Green if they could get married there and then – just the one couple. By the way, they couldn't. You have to wait 15 days apparently. I had this evil thought that they immediately had a row about it and have since split up. " see I told you we couldn't" "oh, Shut up" etc, etc
<![if !supportEmptyParas]> <![endif]>
Ain't No Mountain High enough
Number of times I had to get off and walk? Just the one as it happens.
It was the very first day in hilly Cornwall. I had just left Newquay and dropped back down to sea level for the umpteenth time into Watergate Bay. I was cold and wet and it had been a long time since brunch. Climbing out of the bay I underestimated the gradient, lost a gear and came to a full stop. Without the physical energy to make the incline or the spirit to go back down the slope to start again, I pushed the bike to the top of the hill for the first and last time on the trip. My mistake had been to neglect to take on fuel. I had arrived at that place marathon runners call " hitting the wall" and cyclists refer to as "bonking out". In the next bay I made an emergency stop for that chocolate bar that used to help you "work rest and play". Despite previous assertions that "I couldn't possibly eat a whole one", I devoured a king size version and waited for the sugar to kick in.
I never made the mistake again and made sure I had some stocks of emergency supplies if the energy levels were dropping.
<![if !supportEmptyParas]>
The 'X' Files:
<![if !supportEmptyParas]> <![endif]>
Total number of Loch Ness monsters seen = Nil
<![if !supportEmptyParas]> <![endif]>
Total number of crop circles seen = Nil
<![if !supportEmptyParas]> <![endif]>
Total UFO sightings = Nil
<![if !supportEmptyParas]> <![endif]>
Total number of sightings of Lord Lucan = Three
(Although this needs to be treated with caution as I have no idea what he looks like in the first place)
<![if !supportEmptyParas]> <![endif]>
Total Weapons of Mass Destruction located = Nil
(Although I'm sure if we are patient they will appear and there was that dodgy looking pie in the Chip shop in Carlisle)
<![if !supportEmptyParas]> <![endif]>
<![if !supportEmptyParas]> <![endif]>
Stupidest Question
The prize for the most irrelevant questions is shared by the number of people I met whilst trying to navigate around the Bristol area. I had foolishly left the designated route thinking I could find a shortcut to the Severn Bridge. On asking for directions to the bridge, I was repeatedly greeted by the question," do you want the old bridge or the Motorway bridge?" Now I don't know about you but I thought that wearing cycling gear, cycling helmet and riding a bike was a bit of a giveaway and I've never in my 50 years seen a cyclist riding down the M6. There was that group of cyclists from an African country though, whilst training before the Commonwealth Games in Manchester, went up the M61 as they thought it was the quickest way to the Reebok Stadium. Apart from that though cyclists don't use the motorway. I can only conclude that the residents of Bristol are so used to people asking the question that they have a programmed response. It is all rather Pavlovian.
<![if !supportEmptyParas]>
On the hard shoulder of the Severn Bridge

It did however remind me of a previous trip to Northern Ireland. A group of us having flown from Liverpool to Belfast airport were cycling to Antrim to catch a train to the coast. After getting lost round the town we asked locals on two occasions for directions to the station.

On both occasions the response was "do you want the railway station or the bus station?" when answering the railway station, the reply was "it's next to the bus station". I can only think that this is the locals' way of taking the mickey out of strangers but it cracks me up every time I think of it.




The Quest for the Holey Socks

Earlier in this account I boasted at how well I was able to look after myself, tickets money et al. Not quite true, I'm afraid. On the very first day of the trip after travelling through Cornwall in the wet I deposited a very expensive pair of waterproof socks in the drying room at Tintagel Youth Hostel because they were soaked through. Well you can work that one out. The following day I departed leaving the socks still in the drying room. It was not until some time and many hills later I discovered my loss and I decided to write them off and move to plan B if necessary which was to use plastic bags over my ordinary socks if it got too wet. Now Tintagel, for those who don't know, seems to have spotted a niche in the tourist market and is claiming a spurious link as the site for Camelot and King Arthur's Knights of the Round Table. In honour of Arthur's Quest for the Holy Grail, I decided some six weeks after leaving Tintagel to return whilst holidaying in Fowey with Mission Controller. The road to The Hostel was quite scary in a car in bright sunlight so perhaps it was just as well that I couldn't see a thing when I was there previously. The end of the road did however reward us with spectacular coastline views and it was hard not to be impressed. Sir Gadabout then went to the Hostel in search of his lost socks which I hoped would now be dry. Sadly however, just as in the case of Arthur my quest was in vain. The Aussie in charge of the Hostel refused permission for me to look in the drying room because it was full of other peoples gear. I obviously must have looked like the type of person that would steal people's wet socks and other unmentionables. So we left, but perhaps one day my socks and I will be reunited or if they have been stolen I hope the beggar finds them as useless as I did.


Heroes & Villains

<![if !supportEmptyParas]> <![endif]>

I couldn't produce this account without giving credit to the nice people I met and also some scorn or for the villains of the piece. I will start with the relatively smaller group of villains.

<![if !supportEmptyParas]> <![endif]>

Jeers, then in no particular order to:-

<![if !supportEmptyParas]> <![endif]>

Miserable waitress in Cullompton - see previous entry.

<![if !supportEmptyParas]> <![endif]>

Staff in Pancake Place, Oban – surly and inefficient.

<![if !supportEmptyParas]> <![endif]>

Man from the couple in Tarbert Kintyre who were driving around the coastline of Britain. He seemed to take strange comfort in telling me I was headed to the wrong place and instead of John O'Groats I should be going to Dunnet Head. More importantly, he said I had set off from the wrong place and should have departed from the Lizard Point rather than Land's End! I like to think that like a young Oscar Wilde I cut him dead with a witty riposte. However, I think I said yah, right, cheers, whilst thinking p*ss off you old git! Scottish midges – although they were not really as bad as advertised perhaps they didn't like the smell of my deterrent, B.O.

Dutch drivers – see previous entry.

<![if !supportEmptyParas]> Great Western trains whose air conditioning failed on the train from Plymouth to Penzance on an absolutely boiling evening.

<![if !supportEmptyParas]> The text mate who seemed to think I would appreciate a text at 5.50am whilst I was fast asleep. I'm afraid I may not have been very kind when it happened a second time.

The 'jobs worth' at Scotrail whose sharp intake of breath when I asked about getting the bike back on a train from Wick was really annoying. He told me it would be nigh on impossible because of the large number of cyclists who use the trains in the area. I think he was getting mixed up with the large numbers of motorists who carry cycles up & down the country without ever seeming to ride them, "the virtual cyclists."

<![if !supportEmptyParas]> <![endif]>

<![if !supportEmptyParas]> <![endif]>

More importantly Cheers in no particular order for:

<![if !supportEmptyParas]> <![endif]>

The motorists who gave me time and space.

<![if !supportEmptyParas]> <![endif]>

The wavers who boosted morale when it was flagging.

<![if !supportEmptyParas]> <![endif]>

The Brummy who shouted 'fur play to yow mate' as I hauled myself up one of the many wet hills in Cornwall on Day One.

<![if !supportEmptyParas]> <![endif]>

The cyclist from Nelson who sorted the bike out whilst I unpacked my gear at Tintagel YH, cold, wet and hungry.

<![if !supportEmptyParas]> The people who gave a contribution to Childline en route:

<![if !supportEmptyParas]> <![endif]>

Renee, on the train to Plymouth

<![if !supportEmptyParas]> <![endif]>

Sheila at the B & B in Wray, Cumbria

<![if !supportEmptyParas]> <![endif]>

Isabella at the B & B in Beaully, Invernesshire

<![if !supportEmptyParas]> <![endif]>

Chris & Jim at the B & B Arran for the free dinner & craic

<![if !supportEmptyParas]> <![endif]>

Ladies in the tourist information offices in Okehampton, Taunton, Chepstow and Ludlow. People who define customer service and do not allow you to leave until and unless they have secured you proper accommodation.

<![if !supportEmptyParas]> <![endif]>

Campbell at the tourist office in Gretna Green for the same reasons.

<![if !supportEmptyParas]> <![endif]>

Mission Control for taking a burden off me.

<![if !supportEmptyParas]> <![endif]>

Lady from the couple in Tarbert in Kintyre who were driving round the coast line of Britain who showed genuine interest in and encouragement for the trip.

<![if !supportEmptyParas]> <![endif]>

Man in Tarbert who took great interest in the bike and the ride.

<![if !supportEmptyParas]> <![endif]>

Peter Koch-Osborne, the guy I rode with to the Nigg ferry in Cromarty, for his interesting conversation and the help he offered if I was stranded up there.

<![if !supportEmptyParas]> <![endif]>

Text mates who gave encouragement and support throughout. Including my early morning caller previously mentioned.

<![if !supportEmptyParas]> <![endif]>

Davina at Wick Railway Station for sorting out the way home.

<![if !supportEmptyParas]> <![endif]>

Police at Wick for helping with the above.

<![if !supportEmptyParas]> <![endif]>

<![if !supportEmptyParas]> <![endif]>

Well, I think that accurately reflects the positive nature of the experience. Not too much bile exposed there.

<![if !supportEmptyParas]> <![endif]>




Conclusion

<![if !supportEmptyParas]> <![endif]>

So what did we learn from the experience?

<![if !supportEmptyParas]> <![endif]>

Well I think on reflection quite a number of things and all positive.

<![if !supportEmptyParas]> <![endif]>

<![if !supportLists]> 1) <![endif]> This country is bigger than you think. To put the ride in perspective, I measured albeit as the crow flies, some equivalents to the 1069 miles travelled. From home this would take me to:

Lisbon - Portugal

Majorca, Minorca, Ibiza – Spain

Rome – Italy

Zagreb – Croatia

Warsaw – Poland

<![if !supportEmptyParas]> <![endif]>

So, some targets for next year perhaps?

<![if !supportEmptyParas]> <![endif]>

<![if !supportLists]> 2) <![endif]> This country has some fabulous scenery which is too often unappreciated when speeding up and down motorways.

<![if !supportEmptyParas]> <![endif]>

<![if !supportLists]> 3) <![endif]> Scotland is bigger than you think. It took me nearly a week of hard cycling to get from Gretna to John O'Groats but the journey is well worth the effort. It also took about 8 hours on a train to cross from Wick to Carlisle.

<![if !supportEmptyParas]> <![endif]>

<![if !supportLists]> 4) <![endif]> People in this country of ours are generally nice, friendly, helpful & kind.

<![if !supportEmptyParas]> <![endif]>

<![if !supportLists]> 5) <![endif]> Motorists can be courteous and patient with cyclists.

<![if !supportEmptyParas]> <![endif]>

<![if !supportLists]> 6) <![endif]> Retirement is fabulous, offers so much opportunity and I have no desire to work full time ever again. Whether I work again at all is yet to be finalised.

<![if !supportEmptyParas]> <![endif]>

<![if !supportLists]> 7) <![endif]> I quite like myself and I can bear to spend time alone on future challenges.

<![if !supportEmptyParas]> <![endif]>

<![if !supportLists]> 8) <![endif]> I know the full words to three Monty Python classics and will learn the rest.

<![if !supportEmptyParas]> <![endif]>

<![if !supportLists]> 9) <![endif]> If you smile and wave at people they generally smile & wave back.

<![if !supportEmptyParas]> <![endif]>

<![if !supportLists]> 10) <![endif]> Being totally self reliant can be satisfying but sharing the burden in a team is better for all concerned.

<![if !supportEmptyParas]> <![endif]>

<![if !supportLists]> 11) <![endif]> I can ride the bike for long periods without great discomfort or injury.

<![if !supportEmptyParas]> <![endif]>

<![if !supportLists]> 12) <![endif]> If you want to lose weight, get a strange tan, get fit, see the countryside and raise a bit of cash for charity – ride your bike for 80 miles per day for a fortnight.

<![if !supportEmptyParas]> <![endif]>

<![if !supportLists]> 13) <![endif]> Once you're wet you're wet! Often the prospect of riding in the wet is worse than the reality. The truth is once it stops raining the gear, including shoes, dries quicker on the ride than it does hanging in a drying room.

<![if !supportEmptyParas]> 14) <![endif]> Don't press buttons on the digital camera without knowing exactly what the consequences may be! Otherwise you risk losing the photos from the second half of the journey. Not that this happened to me of course. Only a fool would …blah…blah…

Postscript to this. It seems that even when you wipe the pictures from the camera, we have the technology to recover them. Three months after my clumsy accident with the camera one of my text mates, Ian, a technical genius, successfully recovered all the missing pictures. So additional cheers for him!!

<![if !supportEmptyParas]> <![endif]>

<![if !supportEmptyParas]> <![endif]>

<![if !supportLists]> 15) <![endif]> New skills & knowledge examples include:

<![if !supportEmptyParas]> <![endif]>

How to use a launderette. Washers and Dryers, mind

<![if !supportEmptyParas]> <![endif]>

St. Crispin is the patron saint of shoe makers (learned in village of Street, built by Clarks shoe family).

<![if !supportEmptyParas]> <![endif]>

Cornwall is very hilly!

<![if !supportEmptyParas]> <![endif]>

It rains in the Lake District.

<![if !supportEmptyParas]> <![endif]>

Scottish Co-ops still sell Blue Ribands

<![if !supportEmptyParas]> <![endif]>

Never invent your own shortcuts

<![if !supportEmptyParas]> <![endif]>

You might be able to ride a bike on the motorways around Bristol (though I doubt it)

<![if !supportEmptyParas]> <![endif]>

You can't run away on the spur of the moment and get married in Gretna Green that day.

<![if !supportEmptyParas]> <![endif]>

<![if !supportEmptyParas]> <![endif]>

<![if !supportEmptyParas]> <![endif]>

<![if !supportEmptyParas]> <![endif]>

<![if !supportEmptyParas]> <![endif]>

<![if !supportEmptyParas]> <![endif]>

All in all I had a truly fantastic time. I had it in mind for many years to do the journey. I can honestly say that it fulfilled all my expectations. There was never moment when I felt:

<![if !supportEmptyParas]> <![endif]>

I wouldn't complete the ride comfortably.

or

<![if !supportEmptyParas]> <![endif]>

I was sorry I ever started

<![if !supportEmptyParas]> <![endif]>

or

<![if !supportEmptyParas]> <![endif]>

I wished I was somewhere else doing something else

<![if !supportEmptyParas]> <![endif]>

<![if !supportEmptyParas]> <![endif]>

My thoughts now turn to what to do next as there is no doubt that there will be other expeditions in the future. Ah, the prospect of winter nights poring over guidebooks and maps.

<![if !supportEmptyParas]> <![endif]>

<![if !supportEmptyParas]> <![endif]>

<![if !supportEmptyParas]> <![endif]>
A view of Ben Nevis in the sunshine