Honda 400 Four

I have admired these bikes ever since my friends Keith and Anita Horsfield bought a brand new one back in 1976. What a fantastic machine - with a sky high red-line (compared with my old 250 BSA) and everything properly finished off and fitted. It was a very long time before I was converted to Japanese bikes, when in 1990, there was an advert in Old Bike Mart, from a chap on the Wirral selling 2, and loads of spares to go with them. I bought the whole lot and started to collect some of the more difficult to obtain parts from David Silver.
A couple of years later, a colleague at work told me of another, which his neighbour's son had just fallen off - this had to go, and it too came into my stable. This had a lot of good new parts on, plus some tacky instruments, indicators, seat unit and an aftermarket 4 into 1.
Some time later, during yet another casual visit to West Coast Motorcycles, another imported 400/4 appeared, slightly scruffy - but all of my good stuff would go on it to make a tidy example.
Very recently events have taken another turn, in that my Nephew's Father-in-law has sadly passed away and there is a 400/4 lurking in his shed in Scotland, which they want me to have - to restore. So now there are 5!! I think I need to retire to get some of this work done!
Having made some of the few special tools needed for dismantling 400's, I have really enjoyed working on these lovely little bikes. They are light to handle (compared with my 1500 Wing!) and most parts are still available - there is very little coloured paintwork, so you can have a change of colour as the mood takes you!
Well, I finally managed to get up to Scotland to collect the 400/4 which had belonged to my Nephew's late Father-in-law, Dick. I had thought that as it was dismantled into 'large lumps', Christine and I might go up her Civic to collect it all, but this proved to be difficult to arrange around work etc. In the end, Peter (VJMC North Lancs section co-ordinator) came to the rescue with his trusty P100 pick-up. We left sleepy Southport at around 6:30am and had a steady ride up the M6 and onto the A7 beyond Carlisle. Rumbling tums halted the journey in Langholm for a quick coffee (well, that's what they said it was!) and a rather nice bacon toastie. My turn to drive now, so I picked the B709, that lovely motorcycling road through Eskdalemuir, Traquair and Innerliethen, and on to Peebles before negotiating the Big Bridge and out onto the M90. We arrived as planned in a sleepy little village in Fife, where a welcoming cuppa awaited. Suitably refreshed, we made our way down to the shed to view the remains of the 400/4. Dick had bought the bike in 1982 and ridden it regularly (as had his wife, Kate) until 1986, when it was put out to grass in favour of a BMW boxer. The intention had been to restore it to its former glory, so it was dismantled into the aforementioned large lumps and stored in the back of a wooden shed. It was in quite a sorry state when I saw it, probably much worse that when it first entered the shed - the main thing was that there were many cloths and sheets wrapping various parts, which had held the moisture and wreaked havoc with the metalwork. The head had been removed and paper bungs had been placed in the cylinder bores, and these were also damp, causing the pistons to develop an affinity to staying put - yes, it was seized! It did, however, seem remarkably complete and un-tampered with, so I am fairly confident that it will live to fight another day.
We all retired to the local pub for a wonderful meal and then returned to the shed to set to work filling the pick-up with the remains of what had been a quite tidy bike.
Peter dragging the partly dismembered motor from the shed
Ready to unload the various boxes of bits - quite an interesting number if you are that way inclined!
When I started to look around it all at home, it soon became evident that this bike was worth doing as it really is very complete. I'm not talking of another concours re-build, but with one or two non-standard parts, it will make a very presentable bike. The absolute scrap items are confined to the mudguards and obviously, seals and gaskets. The fork stanchions are pitted, as is most of the decorative chrome. Re-chroming these items will cost as much as new ones, but this time I am going to re-claim these original parts, otherwise I will end up with a shed full of parts, which fall into the 'not quite good enough to use, but too good to throw away' category. As it is mostly dismantled anyway, I am going to attack it in one of the ways I have used before. This involves the following approximate sequence
Chop out the hubs from the rims after measuring offsets and spoke info.
Remove all of the parts which require re-chroming
Remove all of the frame related parts which were bright zinc-plated, ready for re-plating.
Take all of the black painted parts for sand-blast - frame, swing-arm, stands, yokes etc.
I have already stripped the forks to bare stanchions and new ones come out at about £110 including carriage and vat, so I have sent the originals to HPC and G in Newark for re-plating.
Update Sunday 3rd November 2002
I have made some progress with the 'Scottish' bike recently. Firstly the stanchions returned from HCP and G after re-chroming. The result is superb and well worth the effort so that I am able to use as much of Dick's bike as possible. The process for those who are unsure is to first straighten the stanchion in an hydraulic press - even though to the naked eye they appear straight they never really are. Then they are cylindrically ground to remove all of the pitting, this is then followed by hard-chrome plating and then re-grinding to the original size.
At the same time as I sent the stanchions away, I also took all of the decorative chrome-work over to Prestige Plating in Barnsley. I have dealt with this company many times before and have always been more than satisfied with their work. This time was no exception and in particular, the original DID wheel rims have come back better than new.
Many companies are reluctant to re-chrome wheel rims as they play havoc with the polishing mops, but not only have Prestige produced a better than new finish, they have also managed to retain the 'DID' logo and size stampings.
A set of spokes from David Silver, original nuts, bolts and speedo drive dog re-plated by Turton metal finishers and the front wheel is now reassembled, ready for final true-ing and tightening in a pair of old forks.
Another bit of good luck came this afternoon, when I turned my attention to the engine again. As I said, it had had it's head removed and some rags stuffed into the bores which had become damp, causing seizure. I had narrowed it down to number 2 piston/rings being the culprits. For a great number of weeks I have kept adding half an inch or so of diesel to this bore and it finally came free today - patience is sometimes rewarded! I will probably turn my attentions to the engine now, as there is nothing stopping me from completing its re-building, but I will be very selective in replacing parts just for the sake of it. It will obviously need gaskets and seals and the cam-chain and tensioners will have to be replaced, but the pistons and even the rings look as though they will live to fight another day. Virtually all of the bolts are still in very good condition, so they will be re-plated and the casings cleaned, followed by being given the now customary coat of smooth silver hammerite.
Update 5th Sept 2004
Been busy on many other projects recently, but started on the tank from Dick's bike, as I was in the mood.
For a bike which is closing on 30 years old, the tank is in very good condition.
There is a little bit of surface rust underneath, but nothing too deep.
First job was to remove the rivets from the tank cap and clip. The next was to measure the positions of the decals, before stripping the whole thing with Nitro-Mors, and the results were amazing.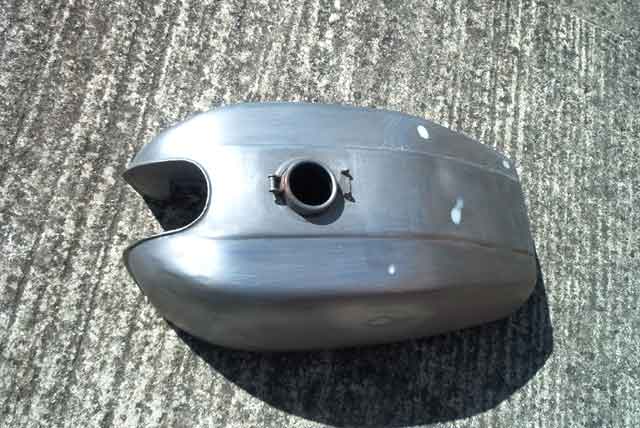 This was followed by filling the 5 or 6 very minor dings, as usual with UPOL 'Smooth and Easy' It is now over at Frank's place for him to hit it with a few good coats of 2-pack primer, before I get the very rewarding, but time consuming task of blocking and flatting, prior to the colour coats going on.
Update 18th February 2005
These are a few shots of the newly painted tank prior to 'scotching' and applying the decals.
Part 6 - repairing the cam chain tensioner