<![if !supportEmptyParas]> <![endif]>
<![if !supportEmptyParas]> <![endif]>
Hound dog
<![if !supportEmptyParas]> <![endif]>
I had been looking for a suitable CBX for a number of years but had never been attracted to the exact one, which I'd had a mental image of. I didn't really want to buy a 'minter', as part of the enjoyment for me, comes from sourcing the bits and the restoration aspect. In this way Christine can be involved too, as she acts like a retriever (I think the technical name is a 'resource investigator') when we go to auto jumbles and the like; I show her what's needed and she goes off to roam around looking and frequently turns up things that I haven't even spotted. We also get to travel around the country together and might enjoy a pub lunch or even a B&B as part of the process. I also realise that if you buy a bike that's shabby you often throw away parts, which you have paid good money for but are not quite up to standard, only to replace them with even costlier items. I am also well aware that it is very easy to spend a whole hill of money inside and outside our favourite six-pack.
<![if !supportEmptyParas]> <![endif]>
Bearing all of these factors in mind, I had to wait until mid 2000 for my dream to come true of actually owning a CBX. One of our local dealers, West Coast Motorcycles, have known for a long time that I wanted a CBX Z (not a Pro link, as I we have a 1500 Wing which we regularly use for touring) and indeed have offered me one or two over the years. I got a call from Nick, the proprietor, telling me about this CBX that they had taken in, with a mural of Elvis on the tank and other tasteful extras (I think not!), with a sheaf of bills for work on the motor. He also said that I would have to be quick, or he would personally jump up and down on this hideous petrol tank! I went to see it and could not believe what I saw - what an eyesore, but I still gave the whole thing a thorough going over and flicked through the bills for new parts. Falicon con rods, a re-bore to big bore (no size mentioned and no bill for pistons but it seems to have some!), wiring loom, replacement head, gear set, bearings, chains, £800 just to blast and paint the engine cases, never mind the white powder coated frame or the Metmachex swing arm and Marzocchi shocks or the Marshall 6 into 1.
<![if !supportEmptyParas]> <![endif]>
This man had spent the aforementioned hill of money on the engine alone, he had owned the bike for over 10 years and with only the receipts for the motor, he probably had 15 grand in it! I can't imagine that he could be married because he accepted £2500 for it, never having ridden it, and after all of that work! It was certainly the nearest to what I was looking for, as all of the parts which I don't need are either new or very nearly so and therefore should be saleable. The biggest drawback was the absence of the lugs for the main stand (the b****y vandal!!) It actually goes like a scalded cat and sounds fantastic when it's on all six, a little way up the rev range - the carbs need sorting - of course! A deal was struck and I took delivery of it, before Nick had chance to do the war dance on the tank. He wrote on the receipt 'Elvis has now left the building', and the lads even now, do Elvis impressions whenever I go into the showroom.
<![if !supportEmptyParas]> <![endif]>
I gave it a good going over in the next few weeks, just replacing the rear tyre and sorting out the homemade stainless chain guard so that the chain wasn't rubbing it and then it was off to the local MOT man. I felt quite self-conscious riding this bike, with a block of flats for an engine and the outlandish paint scheme (That's rich, coming from a 1500 Wing owner!) but it certainly performed well. The receipts for the work done seem to indicate that it had only done a couple of miles since rebuild, so I am being a bit conservative with the whole thing at present. The previous owner had hawked it around in the back of a van, to try to sell it. I have tried to speak to this chap but was told by his mum that he is working abroad, so that might have to wait.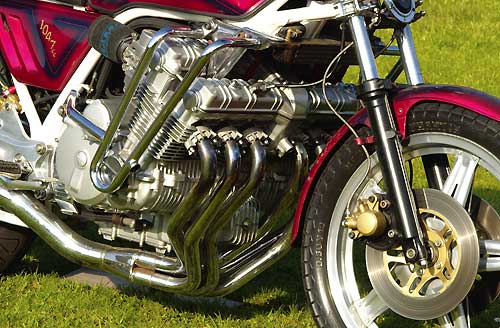 <![if !supportEmptyParas]> <![endif]>
My original intentions were to ride it for a while, which I have now done, taking it to a show near Blackpool, where it created an unbelievable amount of interest. Then to collect as much as I can to put it back to standard. A standard silver tank came with it, as well as the original air box and a few other bits and pieces, another tank (also in silver) was donated by Nick, with 'Mike Hailwood' sign written on it, but damaged; I need to find out more about the origins of that one. I have managed to obtain some of the bits and have the offer of more, including a piece from a damaged frame for the centre stand lugs. The only thing is that I'm getting quite used to the precise handling (compared with other machinery of its day) with the Metmachex , Marzocchis and the fork brace, so I may well do another season with Elvis grinning back at me from the tank, before restoring it to its former glory. Love it or hate it (I hate it!) the paintwork was done by some very talented person out there, even though Elvis does look as if he'd been on steroids!
Re-finishing the spare petrol tank - Paint-stripped to bare metal -
only one or two dents! and some more appear!
<![if !supportEmptyParas]> <![endif]>
<![if !supportEmptyParas]>Back to Stories