Honda GL1500 Gold Wing
April 2003
Well, after 6 great years of owning the maroon GL1500, an opportunity came up which appeared too good to miss (er? - where have I heard that one before?) Foolishly I had dropped in recently to West Coast motorcycles to see Nick Culton - a much trimmed down, racing snake version! 'I've got a container load of stuff coming in from Japan next week - there's a GL1500 SE with your name written all over it' Elsewhere in these pages you will find tales of continental trips with our bike, so I was not really intending selling it just yet, the vague game plan was that I would probably change to an 1800 in the next few years, although I haven't even ridden one yet!
Why would anyone want to part with this cossetted beauty?
The last day of the Raspberry Rocketship before its retirement from my ownership
There always seems to be a story about these bikes, and this new one is no exception. The odometer reads 4360 Km (about 2700 miles) and the frame plate shows Feb 1991. My first sight of it started my usual suspicians - how come a bike with such a low recorded mileage has a brand new front tyre, complete with knobbles? Has the Japanese equivalent of Doctor Clocktor been at it? A quick look at the rear tyre after putting the normal pressure in, revealed the equivalent wear for the mileage, and lots of cracks in the sidewall - probably why the front had been replaced, being on view and easier to remove.
It actually looks a little bit better in the picture than it did when I first clapped eyes on it. The whole thing was quite dull and there was mould on the seat and radio compartment. The screen and mirrors had been removed for transit - this bike has done more sea miles onboard ship than it has on the road! The blue one next to mine came in the same consignment and only has about 14000 Km showing, but it's standard 90 model GL, the only extras I could see were cornering lights in the fairing lowers. It has a few more scratches and some glued-on rubber strakes on the panniers and top box - hideous! Strangely enough, the blue ones took a dive in popularity when someone put around a rumour about the 'Friends of the Village People' preferring them!
The day it was picked up, a thorough check over and ready for its first ride to the MOT station. An MOT before its first scheduled service - now that is unusual, even for a Wing.
A day with the lotions and potions from AutoGlym soon had it looking a lot better, then it was time to set about changing all of the personalised parts over from the other one. There was a small amount of surface rust on the joints around the crash bars, but everywhere shows that the mileage is correct. Although it has been standing in damp conditions at some time, there is no evidence underneath of it ever having been ridden in the rain.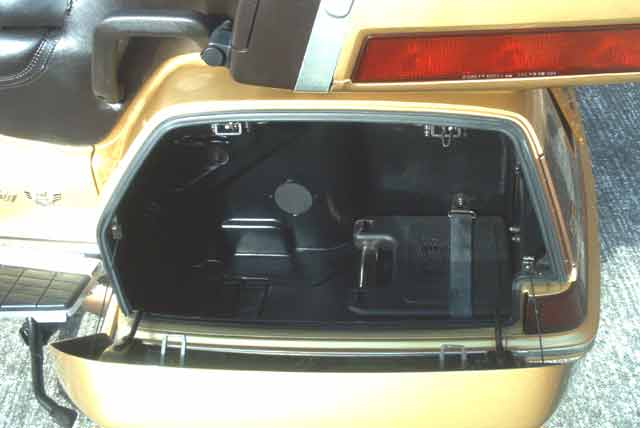 The insides of the cases are totally unused - no scratches or scuffs, and the original GL toolkit is as it left the Factory.
First impressions are very favourable, everything feels taught and it is a bit quieter than the previous one - the overall gearing seems different too - a bit higher. I'll keep you informed of it's progress.
Mileage on new speedo at cambelt change 005449 miles plus 10360 Km (6438 miles) =11887 miles