1994 Honda C90's
This red bike - a 1994 C90P was bought recently from a friend of my Cousin Neil along with another slightly earlier blue 1988 C90G. Both bikes had been restored by a motor engineer and bike enthusiast about 4 years ago and stored unused in his conservatory ever since. My friend Doug Houghton and I had talked about an 'Old Codgers' trip by bike from Orkney to Germany sometime. I had planned something similar with another mate back in the late 90's but for various reasons things didn't work out that time. That plan had involved me using my recently restored C50 LAC and he had just restored a 6volt C90 but I now think C90's for both of us would be more suitable; Doug and I started scouring adverts and then not one but these two restored bikes turned up! In the past I have always bought rough cheap stuff and restored it, so buying something already done was new to me and so far I'm not disappointed. Tony, the man who restored them did explain that he had not touched either of the engines as they ran well enough but at the price we paid, having to pull them apart would not be an issue.
We've both separately had a few 'shakedown' runs on the bikes and mine appears to be pretty good in most respects but Doug seems to be having gear changing issues on the blue one - we need to swap over sometime to see if there is something that needs adjusting or replacing. These engines are so simple it will not be too difficult to get it sorted.
We've joined the C90 club forum and will share our experiences with the other enthusiasts and might get some useful hints and tips along the way. Doug has had a C90 before and done a few lengthy trips so we see no real problem, I have quite a few bikes, including a GL1500SE GoldWing and am very used to Continental touring but my minimalist streak often rears its head! Perceived wisdom from forum members well versed in everything C90, seems to indicate that 150 miles can be fitted into a fairly relaxed day. This means we are only looking at about 5 days from Orkney to the Mosel in Germany using the Kirkwall to Aberdeen and Hull to Rotterdam sailings - there's no rush though - we want more smiles per gallon!
Well, Doug persevered with the blue bike for a while and we did swap over for a comparison but the gear change didn't get better (or worse) with use and sometimes could be frustrating before 3rd gear was finally engaged. Clutch adjustment was advised but that made no difference. The bike ran fine but would not be suitable for a lengthy trip. As I have plenty of other bikes to use I swapped bikes with Doug (temporarily) so that he had transport if his Wife needed their car. Other jobs got in the way for a while but eventually the bike bench became free of projects so the blue C90G eventually made it to the surgery.
There are plenty of good manuals around so I will only go into detail on the complicated stuff but the process is basically:
remove legshield
drain oil
remove exhaust
remove footrest bar
remove kick start lever and clutch cover
remove clutch assembly
Fortunately the castellated clutch centre nut is the same as the 400/4 and I've already made a slotted adaptor for one of those.
This was all done to allow me to inspect the gear change mechanism in the first instance to see if the problem was in those components and if not, then it would require a complete strip to get to the selector forks and drum.
Well, this is what I found with the operating mechanism for the rotary gear change - this first picture shows the star wheel with the roller correctly seated in one of the cut outs.
Working the gearlever round the box N-1-2-3-N-1-2-3-N for quite a few cycles, no problem, then suddenly it locks with the point of the star wheel against the roller - no more gears can be selected, like this:
until I rotated the final drive sprocket and then 'click' and it all works again as per the first picture. This happened again on a random basis so there was no way of knowing that it would ever be reliable on the road. Nothing for it but to remove the whole engine and strip it. Oh well, at least I can go through everything before our trip. Another slight bonus is that the rotor puller is the same as my C50 LAC which I stripped and rebuilt many years ago so I have one of those somewhere. I know exactly where it was in my old garage - but we moved from that house more than 10 years ago! Hunting time again!
As I said previously, we were told when we bought these bikes that neither of the engines had been touched in the rebuild, so we kind of expected a few problems and these units are fairly simple but will still need gaskets and seals at the very least. While this one is completely stripped I may as well paint the cases and plate some of the bolts - the rest of the bike is stunning.
The next stage:
Carb removed, cylinder head off, barrel and piston removed. Alternator rotor and timing plate removed, just the 2 engine bolts and it's out! I slackened many of the crankcase bolts whilst it was still in the frame - it's easier that way.
Engine on the bench and the two halves separated, crankshaft removed and put to one side; this allowed me to remove the gears, shafts and selector drum as one unit - taking note of the spacers and shims.
Nothing really obvious yet but careful inspection and measurement of all components may shed some light on the problem.
The speedo has travelled over 20000 miles - can never be sure about the rest of any bike! However, just like many of the Hondas I've had dealings with, there appears to be very little wear evident. The standard bore and piston are near perfect and all bearings are good.
Although the clutch plates are within spec we would both prefer to have new, genuine Honda ones for peace of mind for the trip. I will probably do my engine in the same way after this one is up and running.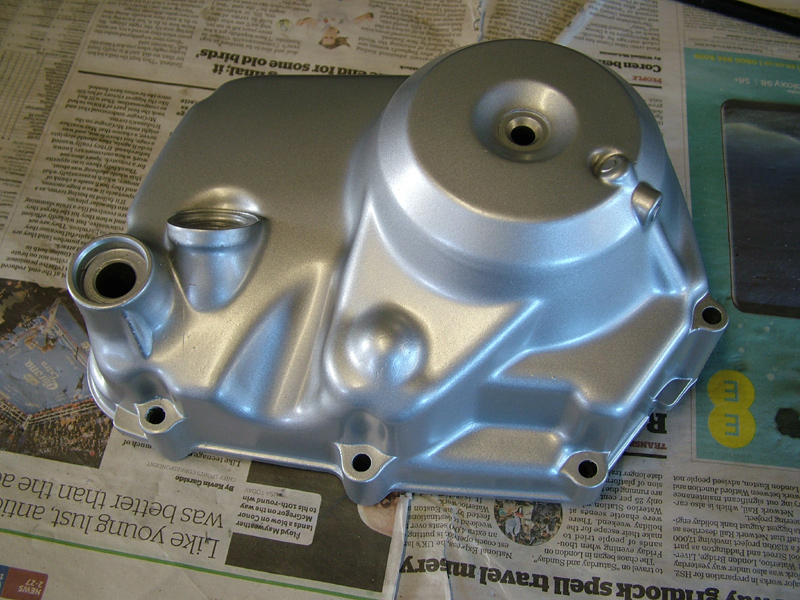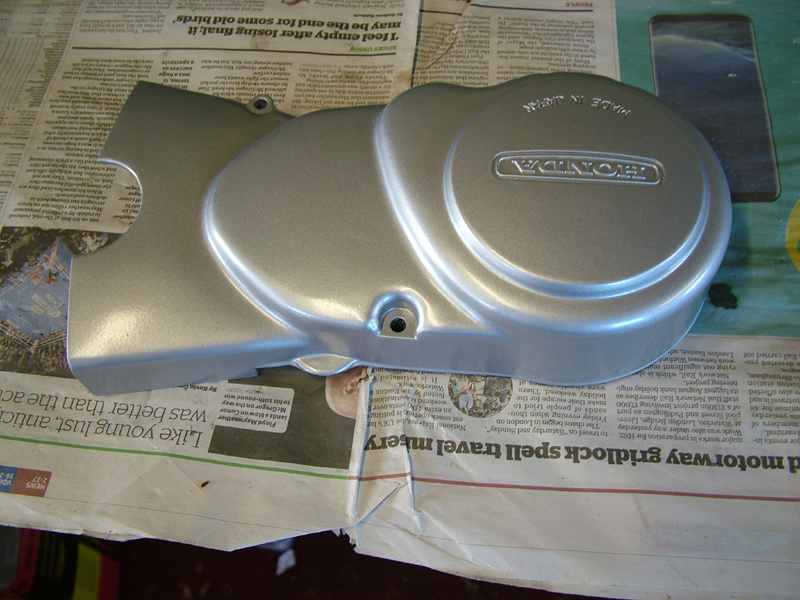 +