Honda 400 Four
Part 5
Returning to original colour
plus engine strip
I decided recently that I ought to see if I could put the bike back to near standard condition as regards zinc plating and frame paint. I also wanted to cure the inevitable cam chain rattle. I must say that Neil has looked after it very well since I sold it to him well over 10 years ago.
It looks quite presentable with the NOS tank and side panels - the front mudguard is a David Silver copy and I can see no difference when compared with the NOS original I have for the red bike.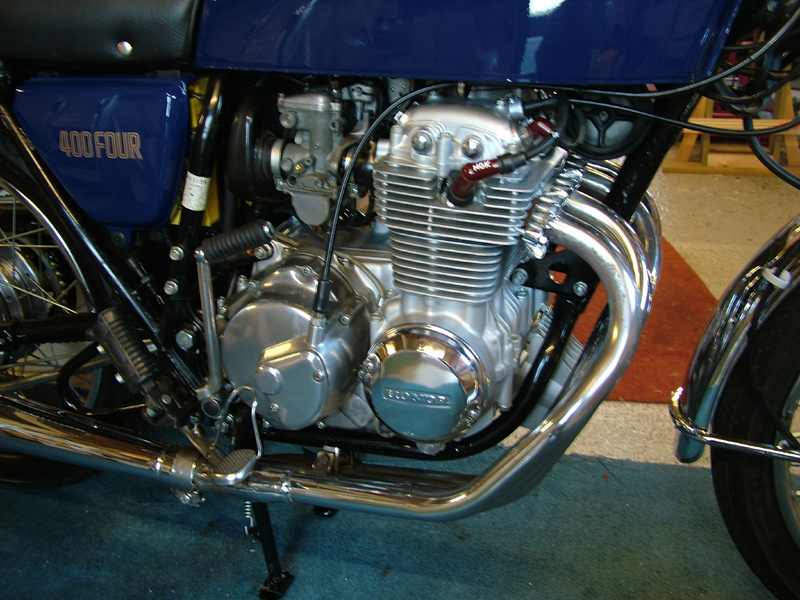 The engine casings have come up well with the usual application of silver Smoothrite. The exhaust headers are original but the chrome is not good on the inside bends of 3 and 4 and the silencer is a new copy fitted by Neil a few years ago after the original fell apart. Plating all of the original engine bolts certainly improves the overall look.
Original DID wheel rims cleaned up very well, not perfect but quite acceptable, so I replated the spokes and nipples and polished the hub and brake plate. I found a near perfect rear mudguard on ebay to replace the bodged one I fitted when I first got the bike from Nick Culton at West Coast all those years ago.
Gear change re plated and rubber boots fitted, centre stand re painted and the casings polished. I also stripped and cleaned the carbs and fitted kits from Cruzinimage