The minimalist approach to everyday transport
1984 Honda People
Now here's a rare one: On one of my recent visits to see me great friend Nick Culton at West Coast Motorcycles, he insisted that I come and have a look at this latest acquisition. Upstairs in one of the many sheds containing all manner of dismembered tat, stood what appeared at first sight to be a bicycle. Nick threw a leg over it and turned the pedals just once and it roared into life - well OK, whimpered then! With thumb operated throttle, it moved gently forward towards a flight of stairs leading down to the ground floor. He resisted any stunt riding and grabbed the front brake lever just in time. It was clear from the start that Nick expected me to want it, so I didn't disappoint him and a deal was done. I have never seen another and it should provide a bit of fun at some of the shows next season.
Straight out of the back of the van!
I think the black basket on the front is non-standard, and some of the weird stickers need to go, but it is very complete.
25cc two stroke engine with separate petrol and oil tanks.
The red lever is a combined engine stop and drive roller engaging device. The yellow lever is the thumb operated throttle.
Even has working indicators too!
Combined indicator switch (with audible tone) and horn push.
Very effective drum front brake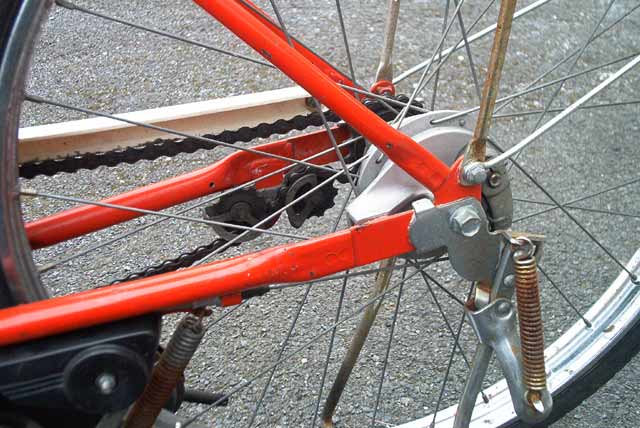 ...and another on the rear end
The drive roller lever moves the whole engine upwards to push the drive roller onto the rear tyre.
Typical Honda attention to detail - everything clipped in place!
There is even an anti theft device - a key operated plunger which prevents the wheel turning.....
...when the plunger is pushed in - which also cuts the engine.