Ducati Monza Junior - 160cc
I have always admired these little OHC bevel drive singles, and got the chance to acquire one in the late 80's. It had been used by a school group to strip and rebuild and was fairly complete although needing quite a lot of work.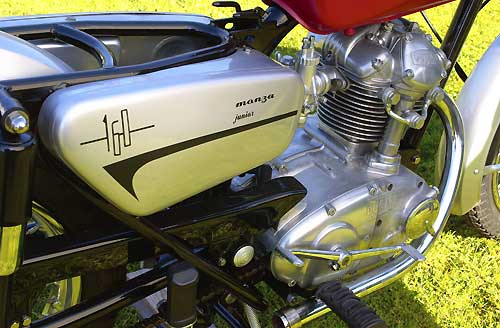 I have a number of small jobs to complete, but here are a few shots along the way.
In the parts for sale section of this site, I have advertised another of these bikes, which has created quite a lot of further interest from all over the world. In particular, one chap by the name of Bob, from the USA emailed me to see if I had any of the parts which were missing from his re-build. In particular, he needs the left side battery cover, headlamp, tail lamp and a clutch pushrod. When the photos arrived, it was clear that his Monza Junior is earlier than mine and has round mudguards and therefore would probably have a round headlamp. If there are any folks out there with those parts for sale, then Bob would be really pleased to hear from you.
Here's a photo of Bob's bike which he has owned for many years.
It looks as though the headlamp mounting lugs have been removed too, but I can help with a pair of them.
You can mail Bob directly if you can help.