Norton Model 50 350cc
Part 9
Petrol Tank Refinishing
I finally got round to painting the petrol tank on the Model 50, having bought some black and Old English White aerosols a while ago. Originally the tank was from an Atlas engined featherbed twin and had been painted one colour. Additionally the holes for the Slimline badges had been brazed up. I eventually drilled these out and made blind top hat bushes, which I re-silver soldered back in place. I filled and then blocked the whole thing and let a friend hit it with a few heavy coats of 2 pack primer, before I dry flatted it with 600. As this was to be a two-tone tank I painted the whole underside and the lower section in the Old English White (an old BL colour) I then re-fitted the new badges and marked the exact position where the white finishes and the black starts. After masking the lower white section it was time to apply the black gloss. These aerosols are brilliant and have an adjustable fan spray which is wide enough to ensure that you can keep the paint wet without any dry patches especially on jobs of this size. Our holiday intervened so the tank had plenty of time to harden before I wet flatted it with 1500 paper, followed by polishing by hand with Farecla G4.
This is the result after final polishing - well worth the effort, I think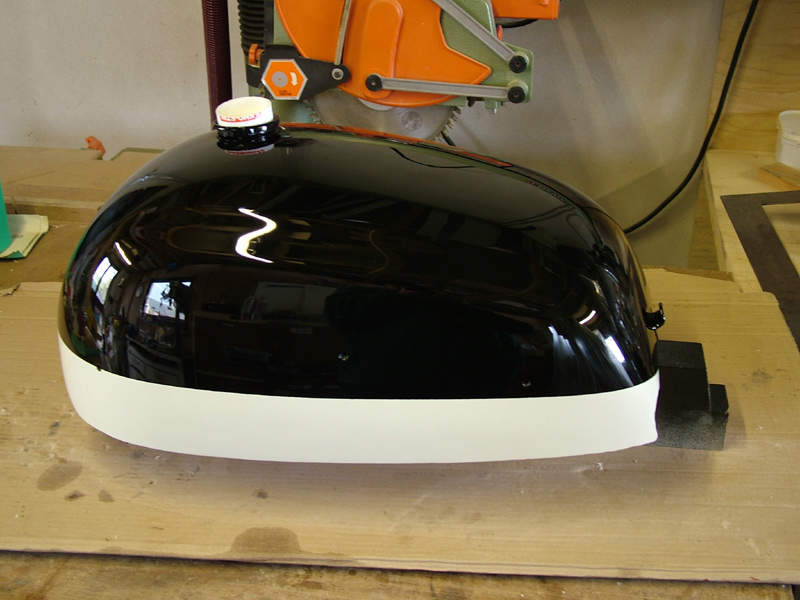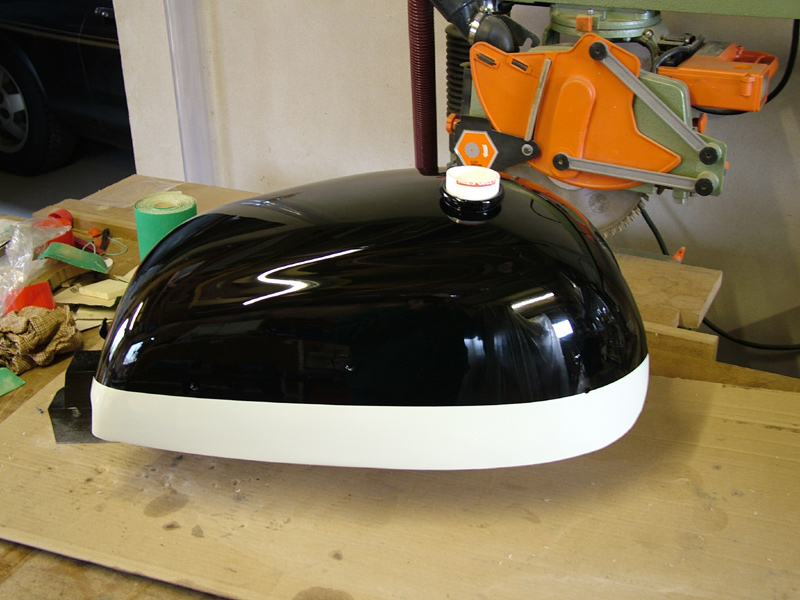 I made a simple wooden stand which is bolted to the front under mounting holes - this keeps it up at a decent height and off the bench and means that you have a way of picking it up and moving it somewhere safe to dry.
Nearly there - just a bit more finishing of, rear mudguard to paint