Norton Model 50 350cc
Part 5
I've really got into this job recently but have lived long enough to know that any distraction - like a good clear day to have a ride out on the 'Wing - could bring it to an abrupt halt. It is then possible for it to just languish on the bench for another year but I hope not because I would like to use it next season - we'll see eh?
The rear brake rod assembly was a lovely little measuring and turning/milling job. I even found a new source here in Orkney for stainless bar - a very helpful company on the Hatston Estate, Craigie Engineering.
These are the bits for the rear brake rod assembly - the scalloped adjuster was notched out to part depth on the miller with my home made indexing chuck and then finished in the bench vice with a round file. The extra long clevis will hold a small plate to actuate the stop lamp switch. The clevis pin has yet to be drilled for the split pin.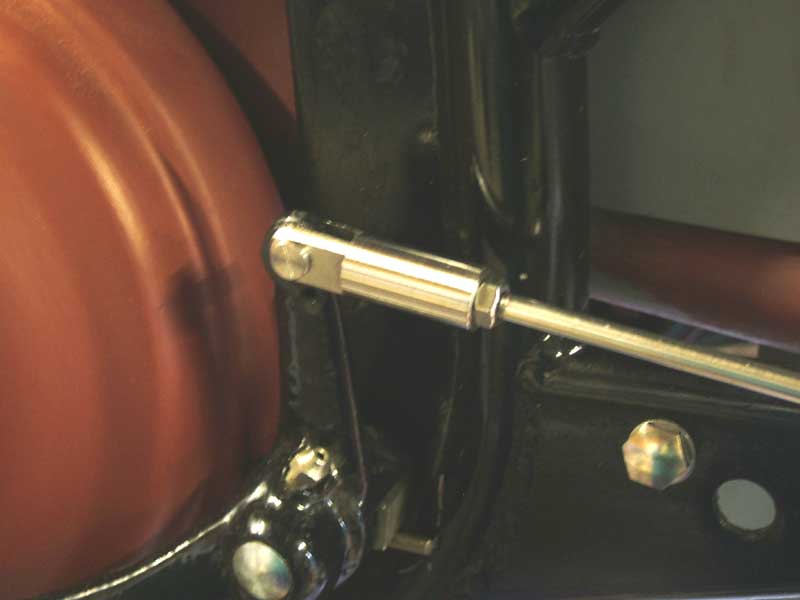 It's very satisfying working in stainless, knowing that there is no plating or painting to do and that these parts will still be around long after I'm gone. OK, parting off the finished article can sometimes be a bit tedious, especially on components with large outer and small inner diameters, such as stepped washers and spacers but I have now abandoned normal soluble oil type coolant on these jobs - which can be quite messy in a small workshop anyway. I now use an occasional application of Rocol RTD (reaming, tapping and drilling compound in liquid form) which lasts for ages and increases tool life with far less mess and a cleaner cut. Most of the rough turning is done dry with a carbide tipped tool.
Now that the hub is securely located and accurately positioned in the swinging arm - which is also in the correct place, it's now time to tighten and true the wheel rim, with the aid of a suitable pointer attached to the tube of the arm. I made a small aluminium alloy open ended spanner to tighten the nipples, to avoid any surface damage. Next up after checking that there are no protruding bits from the nipples (wrong web site!) will be the rim tape, followed by the new tyre and tube, which means that the bike can now stand on it's own two wheels for the first time in my ownership in almost 30 years.