1955 BSA Bantam Major 150cc

When I first started teaching at Southport College, a great number of our students used motorcycles as their main means of getting to and fro. The machines of the day were Suzuki AP50s, Yamaha FS1Es (Fizzies!) and Hondas of all shapes and sizes, with an occasional scooter swelling the small car park. The students, all first year apprentices employed by various local firms, were with us for a full 48 week year undertaking their 'off the job' training, so we got to know them very well. Some had to travel from Skelmersdale which was about 15 miles away and occasionally there would be the inevitable breakdown when something or other came loose or dropped off. We often used this as an excuse to secrete the offending machine into the workshop so that the member of staff and students in that class could all gather round to suggest methods of effecting a repair. This often meant liaising with the other lecturers in other sections where the necessary expertise or equipment might be situated. Our Head of Department knew this occasionally went on and fortunately turned a blind eye, knowing that their normal planned work would still get done.

During one of these impromptu 'lessons' one student asked if I knew anyone who might want an old British bike he had in an old chicken shed on his parent's smallholding. He was unsure of the make and model but knew it was incomplete. although he and his Dad had occasionally ridden it up and down nearby fields. Eventually he informed me it was a BSA Bantam (no wonder it was in a chicken shed!) and it could be mine for a tenner - A work colleague Kevan had an Austin Maxi so we made the trip out to Bickerstaffe one evening to collect it, having to remove only the front wheel to make it fit - the front mudguard was missing anyway which made things easier. At that time - well before I was married, I had just bought a 3 bedroom semi but had no garage, so the bike was stripped outside, everything cleaned and put upstairs in a spare bedroom! This doubled as a 'workshop' for a year or so until I could afford to build a garage.
It might look like a hopeless case but had not been butchered too badly
The dual seat was an optional extra and asking a bit much for a 150 to carry 2 people, so I settled on a single saddle
The very simple 2 stroke engine was based on a DKW design obtained as part of war reparations but manufactured as a 'mirror image' so that the gear-change was on the correct side for Britain.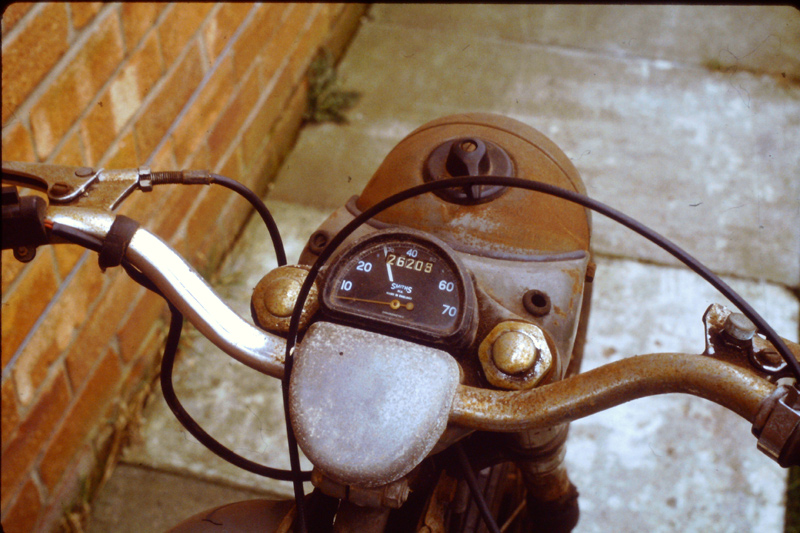 The tank, being on a 2 stroke was very sound and even some of the maroon and gold lining was still visible to help with restoration detail.
I gradually collected the missing parts - mostly at the now defunct Bolton Autojumble but the bike remained in pieces for a few years until I moved house in the early eighties. I had the plunger frame grit blasted and then I applied a few coats of 'Bondaprimer' before brushing on the grey top coats which were then flatted and polished. After I had got my garage and therefore somewhere more suitable to work, I was able to spray the larger pieces like the mudguards and petrol tank. The saddest part of this story is that Neil, the lad I had bought the bike from, died in a motorcycle accident on his newly acquired Suzuki X7 later that year. Apparently a small group of students had gone out in the lunch hour, something they were not allowed to do and he had lost control on a bend returning to College. I never did get the log book for the Bantam and certainly didn't feel it was right to approach his parents, so I had to apply to the local vehicle registration office who decided the bike needed inspection; this was around the time when the DVLC had imposed a deadline in 1983 to get vehicles registered on their infamous new system. There was a knock at the door late one Friday evening and a very wet official announced that he had come to inspect the bike! Apparently the backlog was so great that for some time he had been working evenings and weekends to help clear it. All was in order, even though it was not quite finished and a new V5 eventually arrived.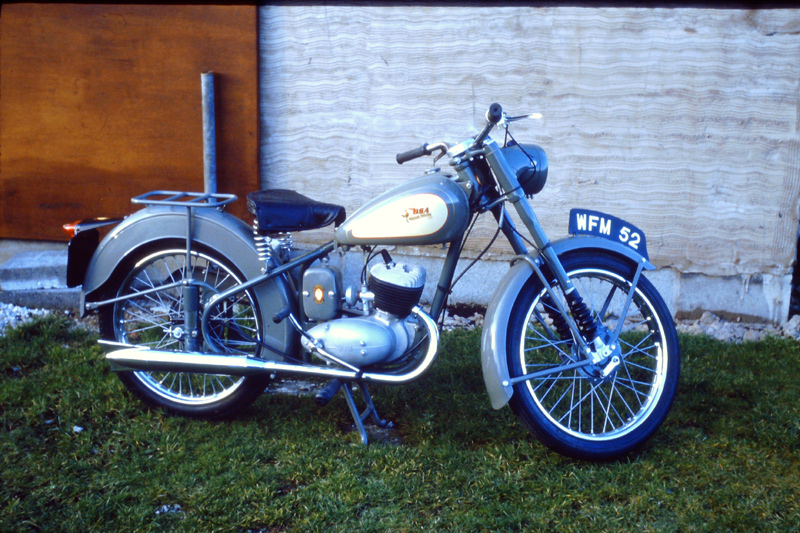 All finished!
Even the first 1955 Tax disc was in a holder and came with the bike and was the only clue I had to the registration number
I finished the bike eventually and even showed it at Bill Head's annual Classic bike gathering in Preston, together with my GL1000 GoldWing. Some years later I had a visit from my great friend Nick Culton who at that time ran West Coast Motorcycles in Southport, together with his friend Kamasan, a policeman visiting from Tokyo. After seeing my small collection of bikes, he decided there and then that he must have my Bantam. So a deal was done and that particular British bike is now in Japan! Many of my bikes have come from Nick, usually following a visit or phone call informing me that he had just taken a delivery of another container load of bikes and there is one in there which has my name written all over it, so it's no wonder I ended up with so many!